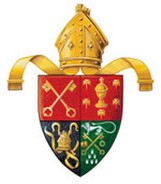 Welcome to the
Cashel, Ferns, Ossory Mothers' Union
website. The website will carry news, articles and photographs of Mothers' Union events throughout the United Diocese and also All-Ireland news.
The website will be regularly updated and if any Branch wishes to have an event, article or photograph published on the website please forward it to our Diocesan Secretary, Margaret Jacob.
Email: cfomothersunion@gmail.com
Please ensure that you have permission from any person who is going to be named in a photograph before sending it in to appear on the website.
All photographs and articles will remain copyright of the website and may not be copied. (See the Data Protection statement at the bottom of the Home Page)
Also please join our facebook page for all the latest news and daily reflections.
CONTACT DETAILS

Cashel, Ferns, Ossory
For further information please contact:
Diocesan Secretary: Margaret Jacob

News Updates
The Rolling Spinner below can be used to advertise events and meetings in your Area or Branch.
Holding your mouse over the spinner will stop it
If you would like to advertise an event on the Spinner please contact The Diocesan Secretary, Margaret Jacob.
(Contact details are available on the home page)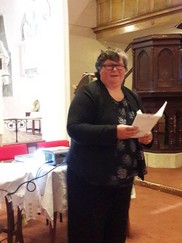 The Diocesan President of
Cashel, Ferns, Ossory Mothers' Union
A Letter from the Diocesan President ~ Lesley Bayley
Much has happened in the last two months since I last wrote to you, and I hope you have been able to enjoy the good weather, and get out and about over the summer as restrictions were eased.
At All-Ireland and diocesan level meetings were held to discuss the reopening of branches and you will have all recently received the 'Reconnecting – Support and Guidance for Branches' leaflet. This outlines what arrangements must be in place in order to hold a meeting, what to do during and after the meeting, several ideas and suggestions for reconnecting, and the answers to some frequently asked questions. Of course, if you are still unsure of anything please contact me for further guidance.
The 'Mum's in May' fundraising has continued over the summer and June Butler completed the first of her walks with us around Kilkenny city on the 8th of July, joined by Bishop Michael and several members, with an historical tour guide explaining the city's history along the way. And on the 12th of July she was joined by several members from the Ferns area as she walked the scenic trails around Tintern Abbey. June will return to the diocese on Tuesday the 26th of October to complete the third 7-kilometre walk.
The new cookbook 'Mums Marvellous Meals' was launched recently at the special All-Ireland Council, and costs €5, with all monies from the sale going to the 'Mums in May' fund. Sales are going well so far and we hope to distribute copies to all branches over the coming weeks ready for reopening.
On the 9th of August we celebrated Mary Sumner Day with a 'Virtual Around the World Prayer Walk' via Zoom, outlining the programmes, projects and history of the Mother's Union. Thank you to all those who took part and joined us for the service, which can be viewed on the All-Ireland Mothers' Union YouTube page.
To mark the centenary of the death of Annabella Hayes, the founder of MU in Ireland, a Zoom meeting was held on the 14th of August, with a guest speaker from the Heritage Council. Then on the 21st her gravesite in St. Fintan's Cemetery, Sutton was rededicated after its recent refurbishment and restoration works, carried out with the help of a Heritage Council grant. This was followed by one of June's 7 kilometre walks and a Service of Thanksgiving in All Saint's Church, Raheny, where Annabella worshiped for many years.
Hopefully, by the time you are reading this most branches will already be planning their reopening, but as you do so, please support your Branch Leader as they comply with all the rules and regulations involved, and remember 'hands, face, space' and always stay safe.
And a prayer as we meet again:
Loving Lord, as we begin to meet again let us reimagine ourselves for a better and brighter future; bringing hope, offering our prayers, support and encouragement,
and helping to rebuild confidence in all those within our branches, parishes and communities.
This we ask in Jesus' name. Amen.
cfodpmothersunion@yahoo.com
Dates for your diary:
June Butler Walk –

Tuesday October 26th

(venue to be confirmed)



Autumn Council – Wednesday November 17th

(venue to be confirmed)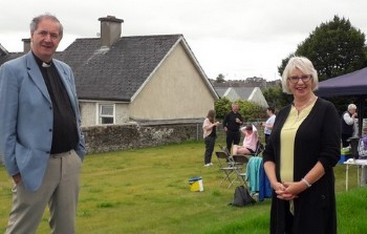 June and Bishop Michael before her walk in Kilkenny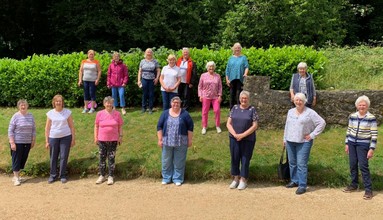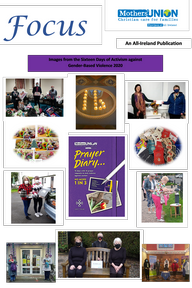 The latest edition of Focus is available to download on the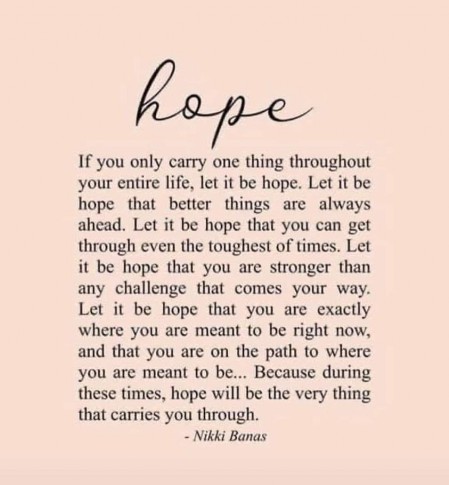 Mothers' Union Video

Click on the Mothers' Union emblem below to see the video highlighting the work of Mothers' Union which was filmed at the Triennial Conference in Termonfeckin in March 2017
The video features members of Mothers' Union from around Ireland telling all about the organisation and the many different projects supported by Mothers' Union both here at home and in Third World Countries.
One of the clips features our very own Joan Blake who can be seen knitting a matinee jacket and talking about the Mothers' Union Knitting Project
Click on the image below to bring you to a message from
Sheran Harper ~ Worldwide President
Below also is a link to the main Mothers' Union
Facebook Page
The All-Ireland Facebook Pages
Click on the image below to bring you to the
All-Ireland You Tube Channel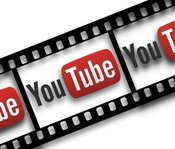 St Patrick's Cathedral, Dublin has worship, recitals and workshops on line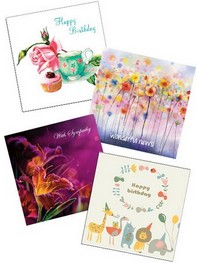 * MU Enterprise Stall *
If anyone wishes to order cards or items from Phyllis Foot from the Mothers' Union Enterprise Stall please contact
Click on the image to bring you to a page dedicated to
Mums in May
on
Phyllis' Armchair Quiz
to raise funds for
Mums in May
Congratulations to the winners:
Heidi Hosford, Cork
Loftus Warren, Athy.

Click on the image to access the answers
June Butler's first walk in the Diocese took place in Kilkenny on Thursday 8th June. We are very grateful to Florrie Carter and her team in Kilkenny Mothers' Union for all of the time and effort they put in to ensure that everything ran smoothly. Those participating enjoyed a lovely walk over the new bridge, by the river and on to the Castle Grounds before returning to the cathedral. Pat Nolan accompanied us on the walk giving an interesting account of all of the historical areas we passed. Sam Harper met up with us en route and provided same lovely ice-cream for refreshments. Some of the walkers had other commitments and were unable to continue on the walk but eight completed it. We were delighted that Bishop Michael Burrows was able to join us for the walk too.
Our thanks to the ladies from Kilkenny MU for all of the hospitality they provided both before and after the walk.
June thanked everyone for their support and welcome to Kilkenny. Florrie Carter, Branch leader, presented June with a small token to mark her visit to Kilkenny.
June's Second Walk ~ Tintern Abbey
June Butler's second walk in CFO took place on Monday 12th July at Tintern Abbey near Saltmills in Co. Wexford. The weather forecast for the morning was miserable but thankfully it turned out to be fine and a lovely day for walking. It was wonderful to meet up with so many members before eight set off to complete one of the longer walks through the woods.
June was delighted to meet up with Bea Thorpe in the walled gardens and have a chat with her. Three ladies set off with June to complete a further two kilometers so as to achieve her 7km target on each walk. When we arrived back in the car park we met up with Anne Barrett, a former All-Ireland President, and our own Phyllis Grothier, who was the previous All-Ireland President, was also present.
Our thanks to Olive Thorpe for her work in arranging the walk and to everyone who attended Tintern Abbey on the day.
The Mothers' Union Cookbook, "Mums' Marvellous Meals", was launched at our Special Council meeting on 22nd June. Copies will be delivered to the Dioceses over the next couple of months.
The Cookbook contains recipes from members from all over Ireland and is divided into different sections ~ Starters, Main Courses, Desserts and Traditional Irish Recipes.
The Cookbook will go on sale for £ 5 or € 5 and all proceeds will go to the "Mums in May" fund.
Click on the image below to view a video of pages from the Cookbook
Competition Time & Mums in May 2021
Throughout the last year All-Ireland Mothers' Union has organised many different competitions to challenge members creativity. The results of all of these competitiones may be found on the "Competition" page of the All-Irealnd website. Click on the link below to bring you to this web page.
We are delighted that two members from Cashel, Ferns & Ossory received Highly Commended for their mascots in the Mascot Competition~ Dorothy Langley from Cashel Mothers' Union and Joan Blake from Ballycanew, Leskinfere & Monamolin Mothers' Union. You can view pictures of their entries below and pictures of all of the entries on the All-Ireland website.
Congratulations to Phyllis Grothier from Tullow Branch who won first prize for the Prayer she composed and to The Very Revd. Tom Gordon who got Highly Commended for his Hymn. All of the prize winning hymns and prayers are on the All-Ireland website
There is a dedicated page for
Mums in May 2021 on the All-Ireland website and it will document all of the various fundraising events as well as June's walk ~
"21 in 21"
Click on the link below to bring you to the webpage.
Winning Prayer ~ Phyllis Grothier
Tullow Branch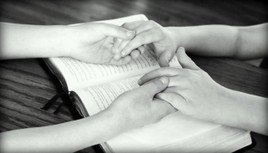 Loving Lord, I bring my prayer to you through faith in your love and mercy.
Father forgive and help me to do better: for the times when I cause hurt either through my words or actions; when I do not recognise you in the face of my neighbour, when I see another human being as different or of less value. Teach me to show love and mercy.
Father forgive and help me to do better: for the times when I see need and do not respond, hear hurtful words and do not call them out, am deaf to the cries of the hungry, hurt and abused. Teach me to show love and mercy.
Father forgive and help me to do better; for the times when I treat your creation as a personal possession rather than a fragile resource to be nurtured and valued . Teach me to show love and mercy.
Teach me to remember always that, while faith, hope and love abide, the greatest of these is love. Inspire me with the confidence to live this truth in my daily life both in word and action, knowing that all I am or can be is based on the strong foundation of God's saving love. In Jesus' name I pray.
Amen
Hymn by The Very Revd. Tom Gordon
Leighlin Branch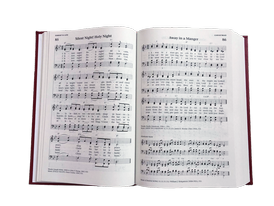 God who is Father of infinite goodness,
God who is Mother and called us to birth,
God, who in Christ, broke the chains that had bound us,
Freed us for kindness, for joy and for mirth
God of all tenderness. God of all tenderness

Grace overflowing which reaches to all.

Bread for our hunger, rich wine at your banquet,

Each has a place who responds to your call.
God who is Spirit, expectant before you,
Raise from our brokenness beauty and love.
From the dry bones of our sin and divisions,
Mould us in gentleness born from above. Refrain.
Break through the times when we limit your mercies.
Rise like the sun beaming measureless grace.
Help us with joy to proclaim love's endeavour -
All now are welcome in Jesus' embrace. Refrain.
Tune: To the Hymn Great is the Faithfulness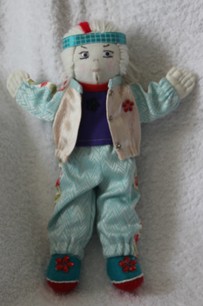 Highly Commended ~ Dorothy Langley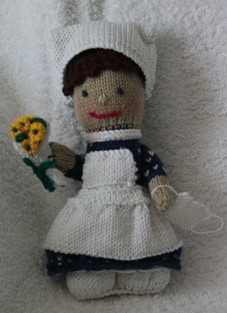 Highly Commended ~ Joan Blake
Ballycanew, Leskinfere, Monamolin MU
Getting to know our Founder In Ireland
Annabella Hayes
1847 – 1921
Mothers' Union was founded in Raheny, Dublin in 1887 by Mrs Annabella Hayes. As we celebrate the 100th Anniversary of her death, let's learn a little more about our founder.
Canon and Mrs Hayes liked to travel and visited Norway, Switzerland and Canada. After their daughter Marie's untimely death in Delhi in 1908 aged 33, they travelled to Delhi to visit the hospital where Marie had worked for the previous three years and to meet people she had worked with. Later Annabella edited and published letters which Marie had written to home. Marie's final letter, sadly, arrived some weeks after the fateful telegram giving news of her death had been received in Raheny. The Hayes memorial cross in Raheny village was erected some years later.
Annabella was born in Dublin in 1847, the daughter of Thomas Edkins Willson of Upper Mount Street. In December 1866 she married the Reverend Francis Carlile Hayes who was then curate in Sandford Parish Church. She was nineteen years old and he was twenty-eight.
In 1867 he was appointed curate of St. Andrew's Church, Suffolk Street, and their first child, Ernest William Carlile Hayes, was born in February 1868. In 1873, Sir Arthur Edward Guinness (later Lord Ardilaun) appointed him Rector of Raheny Parish and he and Annabella moved to the Glebe House where they were to remain for the next forty-five years.
Their second child, Marie Elizabeth (always known as May) was born in May1874, and in April 1878 her sister Ethel Clara Ridley was born. A boy, Maurice, was born in 1886 but sadly died in infancy. Ernest went to school at St.Columba's and an English governess, Connie Gibbs of Willesden, was appointed to look after the education of the two girls.
In 1887 Annabella Hayes set up the first branch of the Mothers' Union in Raheny, inspired by what Mary Sumner had done in England eleven years before. Little did either of them know that in the twenty-first century world-wide membership of M.U would have grown to over four million.
Francis and Annabella were still in the Raheny Rectory when they celebrated their Golden Wedding in 1916. Canon Hayes retired in 1918 and he and Annabella moved to 12 Northbrook Road which was apparently owned by Francis since his days at St. Andrew's. Annabella survived a bad bout of 'flu shortly after they moved, but was taken ill again about a year later. She was diagnosed with liver cancer and died at home on the 7th February 1921.
Annabella was buried in St. Fintan's Cemetery in Sutton and her headstone (and that of Francis) stands at the highest point of the Cemetery. It is, however, not made of stone but of wood - teak, and despite its having stood there for 100 years there is absolutely no sign of decay in the timber. Mothers' Union in Ireland had planned to do some restorative work to her gravesite during 2021 but has been put on hold because of Covid 19 restrictions.
Annabella was 74 when she died on 7th February 1921 and Francis was 94 when he died on 12th December 1931.
Click on the photograph of Annabella to bring you to a dedicated page
on the All-Ireland Website covering the centenery celebrations.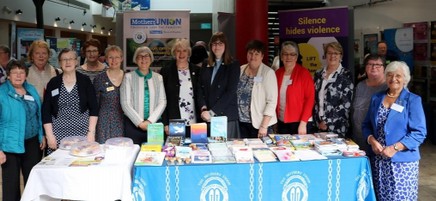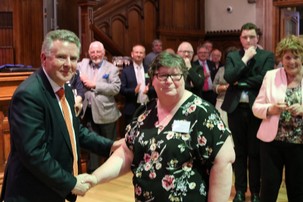 Mother's Union at Synod 2019
Many members from the Diocese attended the General Synod in the Millennium Forum, Derry/Londonderry, 16th – 18th May. Some of our members appear in the picture on the left at the Mothers' Union stand at Synod, along with the All-Ireland President, June Butler. The Mothers' Union stand is always very popular and does a great deal to promote the work of Mothers' Union at home and abroad.
We were delighted that our website was awarded the runners-up prize for websites in "The Affiliated Associations" section. Lesley Bayley, our Diocesan President, was present at a function in The Guild Hall to collect the award.
The winning website in this section was Dublin/Glendalough Mothers' Union.
The judges had the following to say about the website:
'… a website packed with information about the work of the Mother's Union. It is kept up to date and gives a good sense of the identity and the work of the organisation.'
PRAYER FOR MULOA

We pray that our God will make us fit for what he's called us to be,
that he'll fill our good ideas and acts of faith with his own energy
so that it all amounts to something.
As our lives honour the name of Jesus,
may he honour us, by his grace; our God giving himself freely,
the Master, Jesus Christ, giving himself freely. Amen
Based on 2 Thessalonians 1:11-12 (The Message)
Republic of Ireland:
Mothers' Union in Ireland is recognised as a Charity by the Revenue Commissioners, 5161.

Registered Charity Number - 20007331 (Charities Regulatory Authority).

Mothers' Union Theme 2021

Rebuilding Hope & Confidence

Please click on the image
to access the Privacy Statement
Cashel, Ferns, Ossory Mothers' Union