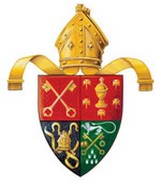 Welcome to the
Cashel, Ferns, Ossory Mothers' Union
website. The website will carry news, articles and photographs of Mothers' Union events throughout the United Diocese and also All-Ireland news.
The website will be regularly updated and if any Branch wishes to have an event, article or photograph published on the website please forward it to our Diocesan Secretary, Margaret Jacob.
Email: cfomothersunion@gmail.com
Please ensure that you have permission from any person who is going to be named in a photograph before sending it in to appear on the website.
All photographs and articles will remain copyright of the website and may not be copied. (See the Data Protection statement at the bottom of the Home Page)
Also please join our facebook page for all the latest news and daily reflections.
News Updates
The Rolling Spinner below can be used to advertise events and meetings in your Area or Branch.
Holding your mouse over the spinner will stop it
If you would like to advertise an event on the Spinner please contact The Diocesan Secretary, Margaret Jacob.
(Contact details are available on the home page)
CONTACT DETAILS

Cashel, Ferns, Ossory
Mothers' Union
For further information please contact:
Diocesan Secretary: Margaret Jacob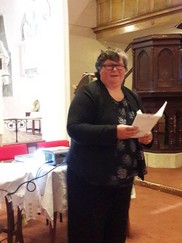 The Diocesan President of
Cashel, Ferns, Ossory Mothers' Union
A Letter from the Diocesan President ~ Lesley Bayley
This month's article is provided by one of our Indoor Member's Representatives, Cecily Jones. Both she and Linda Condell work hard to maintain contact with these most valuable members and keep them updated on all things MU.
For my own part I would just like to highlight the AFIA grant fund, which has been reimagined in 2020 in order to be more diverse and to help a wider range of people within our communities. As we emerge from yet another level 5 lockdown and with the imminent arrival of Christmas many are struggling financially.

We can now offer help through vouchers for supermarkets and toy shops, food hampers, etc., email

cfoafia@gmail.com

for an application form.
And may I take this opportunity to wish you all a very happy Christmas, and I hope and pray that 2021 will be a better year for us all.
Reflection from Cecily Jones ~ Indoor Member Contact Mothers' Union
We owe a great gratitude to our Indoor Members, they are an integral part and backbone of Mothers' Union. Most ladies would have joined in their 20's and 30's and given their energy, commitment, dedication and prayers all through their lives for the benefit and continuing future generations of Mothers' Union.
Branch Members who become Indoor Members may be of any age, be living on their own, housebound, in a Nursing Home or unable to attend Branch meetings. They continue to belong to the Branch into which they were enrolled regardless of where they now reside. Branch Members keep Indoor Members in their prayers at every meeting.
There are twenty-seven Indoor Members in our Diocese of Cashel Ferns & Ossory with Linda Condell and myself being the two Indoor Member Contacts for our Diocese. We both are Garda Vetted and have Safeguarding Trust training, by law, for the safety of the Members thus allowing us to visit. We, as IMC's are the main point of contact outside their own Branch and we work closely with our Faith & Policy co-ordinator, namely Elizabeth Johnston.
Sadly, this year has been hugely different since March with COVID restrictions. It has been incredibly stressful and difficult for everyone. Unfortunately, visits have not been possible, and our usual Indoor Afternoon Parties have had to be cancelled. Before COVID birthday parties were greatly enjoyed including Members celebrating their 100th birthdays – great milestones!
On a regular basis contact is made by telephone, letters and the sending of cards. Cards comprise of Birthday, Thinking of You, Get Well, Best Wishes and Sympathy cards to families of our Members who have sadly passed away. Branch Members keep us informed of new members, those sick, those in hospital, those moved to a Nursing Home or no longer with us. Throughout the year Norma Bell (All Ireland Indoor Member Contact) is kept up-to-date keeping records in order. All our cards are purchased from Phyllis Foot who is our Mothers' Union Enterprise Representative.
With the sending of Easter and Christmas cards letters are included from Sheran Harper (Worldwide President) and Jean Butler (All Ireland President).
Throughout the past years Members have thoroughly enjoyed singing along with Branch Members Harvest Hymns and Christmas Carols joining in also with Prayers and Readings.
Some wonderful services have been held with the Rector of their Parish presenting Long Service Certificates to Indoor Members. Very proud moments!
I reiterate by saying Indoor Members are a special part of our organisation and their knowledge, interest and ongoing prayers are greatly valued, always remembered and highly regarded.
With every good wish for a very Happy Christmas, keep well & stay safe.
December Newsletter for Members
Click on the image above to access the December
Newsletter
Mary Sumner Day Service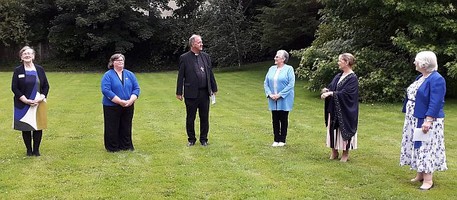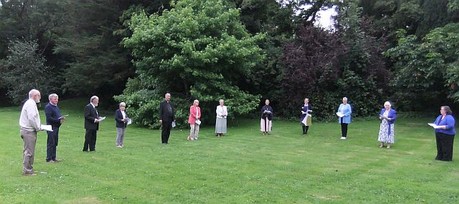 The Service went live on Sunday 9th August at 9a.m. and can be asccessed from our website or our Facebook Page. Our thanks to everyone who participated in the service, to Bishop Michael for facilitating the service in the Bishop's House Garden and to Margaret Hawkins for all her work in fiulming and editing the service.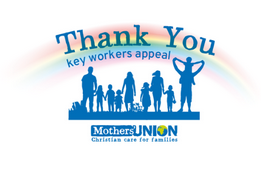 Click on the image to find out more about this appeal
The appeal is available to key workers in Ireland as well as the United Kingdom

The latest edition of Focus is available to download on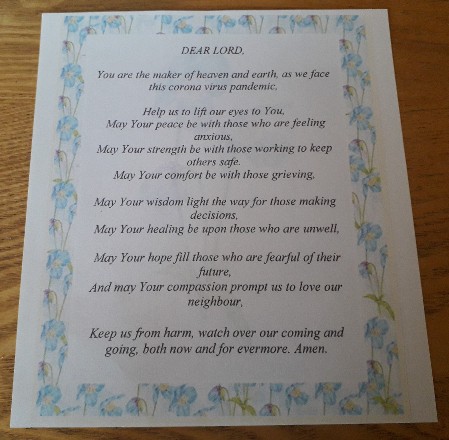 Mothers' Union Video

Click on the Mothers' Union emblem below to see the video highlighting the work of Mothers' Union which was filmed at the Triennial Conference in Termonfeckin in March 2017
The video features members of Mothers' Union from around Ireland telling all about the organisation and the many different projects supported by Mothers' Union both here at home and in Third World Countries.
One of the clips features our very own Joan Blake who can be seen knitting a matinee jacket and talking about the Mothers' Union Knitting Project
Click on the image below to bring you to a message from
Sheran Harper ~ Worldwide President
Below also is a link to the main Mothers' Union
Facebook Page
The All-Ireland Facebook Page
St Patrick's Cathedral, Dublin has worship, recitals and workshops on line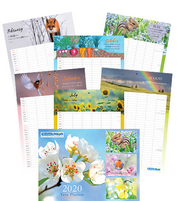 * MU Enterprise Stall *
If anyone wishes to order items from Phyllis Foot from the Mothers' Union Enterprise Stall please contact
Phyllis has arranged to bring her stall to the following locations:
*NOTE CHANGE OF DATES*
Saturday 5th December 2020
Tullow ~ 10a.m.-11am

Leskinfere Hall ~ 12p.m. - 1p.m

Killanne Hall ~ 2p.m. - 3p.m.

~ CANCELLED
Saturday 12th December 2020
Kilkenny ~ 10a.m. - 11a.m.

Carlow ~ 12p.m. - 1p.m.

Castlecomer ~ 2p.m. - 3p.m.
We greatly appreciate Phyllis taking time to bring her stall around the Diocese.
Please ensure you follow all of the Covid-19 guidelines when coming to purchase cards, diaries, calendars, gifts etc
Click on the image to bring you to the All-Ireland site which has
Information
and Resources
for the
Sixteen Days of Activism Against Gender Based Violence.
Click on the image above to read
Sheran Harper's Indoor Member letter for Christmas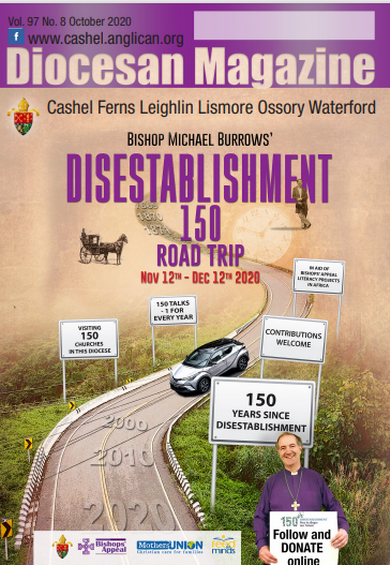 All funds raised will go to Bishops' Appeal literacy projects
in the developing world in association with
Mothers' Union
and
Feed the Minds
.
BISHOP BURROWS' VIRTUAL DISESTABLISHMENT 150 TOUR
Begins on Wednesday, November 12th 2020
Please follow his progress on this website as he travels around the diocese and back over the past 150 years
Donations to Bishops' Appeal literacy projects in the developing world would be much appreciated from today until mid-December via
The DISESTABLISHMENT 150 VIRTUAL TOUR by the Right Reverend Michael Burrows, Bishop of Cashel, Ferns & Ossory will take place between November 12th and December 12th.
Originally planned as a road trip round the diocese our bishop will, due to lockdown, instead provide an online reflection about one year in each the past 150 as he 'visits' each of the 150 churches in his diocese over a period of 15 non-consecutive days.
All funds raised will go to Bishops' Appeal literacy projects in the developing world in association with Mothers' Union and Feed the Minds.
"Although my peregrination plans are now largely virtual, they can, perhaps, in some way warm our hearts as we prepare for a rather strange Christmas,"
"This 'virtual' road run also makes a measure of historical sense as the years between 1870 and 2020 are now bookended by two crises which shook the Church of Ireland and the society in which it is set …Disestablishment and Covid-19. Both tested the resourcefulness of the church; both involved great faith and generosity to allow the church to travel safely through a human, pastoral and economic crisis."
I hope by now that all our members will have received the new Annual Prayer Diary and with it some information about this year's Christmas Appeal for an excellent literacy project in the Democratic Republic of Congo (DRC). It is wonderful that this year Mother's Union has been accepted as a partner by The Big Give, which through monies already pledged will be able to double our on-line giving during the period from 1st until 8th December.
The Appeal letter tells us how our generosity can make a significant difference to the lives of the women of DRC not only by educating them but consequently educating their communities and combating gender inequality and also gender-based violence(GBV)
What you may not know, is that it is the generosity of Mothers' Union in Ireland which has made this entire appeal possible. We have held over "Mums in May" contributions since 2018 - €13,000 had been allocated to DRC to support a project on GBV but the MU infrastructure there at that time was erratic and we were advised by the central charity that funds should and would not be forwarded. However, you will see from Marte's letter with the appeal that things have improved considerably in DRC and that some education programmes have now commenced. However, many more are needed.
The All Ireland MU Trustees recently agreed to release our "ring-fenced" MIM donation to this project and it is great that by pledging it though The Big Give that it has already been doubled by another trust fund. The aim is to double the funds now held to £52,000 through this week's appeal to support the DRC project. So, if you are able, I would ask you please to consider giving - either on line or by the using the freepost envelope - to this wonderful project which has been in hearts of Mothers' Union members in Ireland for a number of years. In this way, we can demonstrate our Christian care and concern for the women of DRC.
June
The Big Give
Christmas Challenge
2020
To donate and read more about the "Big Give" in conjunction with Mothers' Union, and the projects that will be supported through it, click on the picture above.

All money donated through the "Big Give" website between noon 1st and noon 8th December will be doubled and will be used to finance MU projects in DR Congo.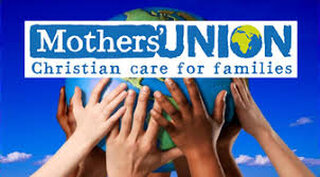 Rebuilding Hope and Confidence
Living with Covid-19
Zoom Breakfast ~ Saturday 6th February 2021
The proposed "Women's Getaway" which was planned for 5th - 6th February 2021 in the Springfield Hotel in Leixlip has been cancelled due to ongoing concerns as to how it can be safely organised with the ongoing restrictions to try and stem the spread of Covid-19. The organising committee instead has planned a "Zoom Breakfast" for Saturday 6th February.
A poster is available to download : To register email:
The planned schedule for the morning is as follows:
10.00a.m. - 10.15a.m. ~ Welcome

10.15a.m. - 10.45a.m. ~ Speaker - Lydia Monds

10.45a.m. - 11.00a.m. ~ Activity

11.00a.m - 11.15a.m. ~ Comfort Break

11.15a.m. - 11.45a.m. ~ Speaker - Karen Grey

12.00p.m. - 12.30p.m. ~ Midday Prayers including Annabelle Hayes Celebration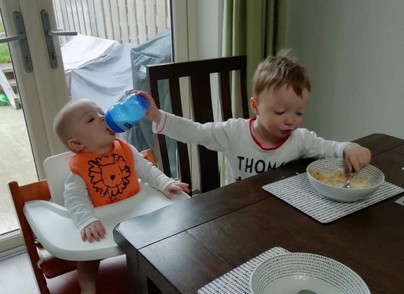 Inga's Prize Winning Photograph
All-Ireland Mothers' Union
Poetry Competition Results
WINNING POEMS (in alphabetical order)
Blue Hands
Olive Thorpe, New Ross /Fethard-on-Sea MU, Cashel, Ferns & Ossory
Dislocation
Valerie Reilly, Belfast Cathedral MU, Connor
Click on the image below to access all of the winning, highly commended and commended poems:
DISLOCATION
I walk unyielding pavements by the roads

past nature clipped, pruned, mown, confined
by hedges, fences, walls and wire
past soaring trees with tarmac round their roots
their seeds adrift on stony ground.
I think about a dark brown path
through leafy gaps in beech and thorn
that leads me up the hill through lush wild woods
the smell of green all round
the sun that spotlights curling ferns
the fallen tree its roots exposed,
the open country stretched away
and Strangford gleaming in the mist-filled light.
A car goes roaring past too fast
exhaust fumes linger, air is stale
I turn for home on dusty paths.
Valerie Reilly, Belfast Cathedral MU
Connor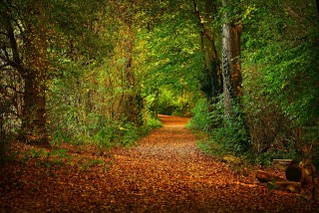 BLUE HANDS
She stood beside the bed – blue from head to toe;
Her wide, brown eyes peeping out from the blue
Swimming in glistening tears that dropped silently on
blue gloved hands, holding feeble hands of love.
She knew it would be the last time her hands were held;
She knew it would be the last time to hold these hands;
Where did all the time go to – why was she always so busy?
Why were we always so busy? always trying to catch up
Never did a hand feel so good and never did it feel so bad;
She closed her eyes, a small smile appeared on her wrinkled face
Brown eyes wept quietly, while the blue hand
gently touched the face of love one last time.
Olive Thorpe, New Ross /Fethard-on-Sea MU
Cashel, Ferns & Ossory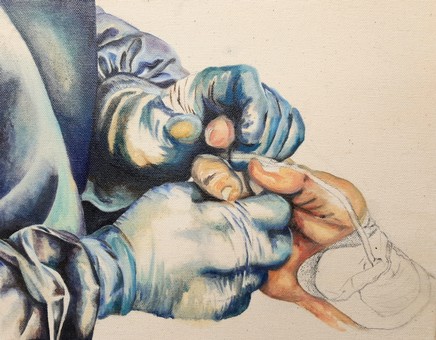 Painting by Nadia Corridan
Mother's Union at Synod 2019
Many members from the Diocese attended the General Synod in the Millennium Forum, Derry/Londonderry, 16th – 18th May. Some of our members appear in the picture on the left at the Mothers' Union stand at Synod, along with the All-Ireland President, June Butler. The Mothers' Union stand is always very popular and does a great deal to promote the work of Mothers' Union at home and abroad.
We were delighted that our website was awarded the runners-up prize for websites in "The Affiliated Associations" section. Lesley Bayley, our Diocesan President, was present at a function in The Guild Hall to collect the award.
The winning website in this section was Dublin/Glendalough Mothers' Union.
The judges had the following to say about the website:
'… a website packed with information about the work of the Mother's Union. It is kept up to date and gives a good sense of the identity and the work of the organisation.'
PRAYER FOR MULOA

We pray that our God will make us fit for what he's called us to be,
that he'll fill our good ideas and acts of faith with his own energy
so that it all amounts to something.
As our lives honour the name of Jesus,
may he honour us, by his grace; our God giving himself freely,
the Master, Jesus Christ, giving himself freely. Amen
Based on 2 Thessalonians 1:11-12 (The Message)
Thoughts & Prayers
Our thoughts and prayers are with everyone at this difficult time. It is indeed a challenging time for everyone but we hope and pray that you all keep safe and well.
As the latest restrictions do not permit church services Rev. Ian Cruickshank has produced a prayer leaflet for use during "quiet prayer time" in Killanne, Killegney, Rossdroit and Templeshanbo churches.
Please click on the image on your right to access the leaflet and feel free to print it off and give to anyone who may like to have a copy.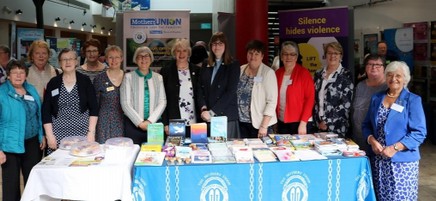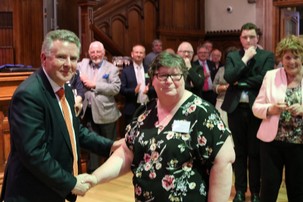 Mothers' Union Theme 2020

Building Hope & Confidence

Republic of Ireland:
Mothers' Union in Ireland is recognised as a Charity by the Revenue Commissioners, 5161.

Registered Charity Number - 20007331 (Charities Regulatory Authority).

Please click on the image
to access the Privacy Statement
Cashel, Ferns, Ossory Mothers' Union