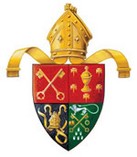 Welcome to the
Cashel, Ferns, Ossory Mothers' Union
website. The website will carry news, articles and photographs of Mothers' Union events throughout the United Diocese and also All-Ireland news.
The website will be regularly updated and if any Branch wishes to have an event, article or photograph published on the website please forward it to our Diocesan Secretary, Margaret Jacob.
Email: cfomothersunion@gmail.com
Please ensure that you have permission from any person who is going to be named in a photograph before sending it in to appear on the website.
All photographs and articles will remain copyright of the website and may not be copied.
News Updates
The Rolling Spinner below can be used to advertise events and meetings in your Area or Branch.
Holding your mouse over the spinner will stop it
If you would like to advertise an event on the Spinner please contact The Diocesan Secretary, Margaret Jacob.
(Contact details are available on the home page)
CONTACT DETAILS

Cashel, Ferns, Ossory
Mothers' Union
For further information please contact:
Diocesan Secretary: Margaret Jacob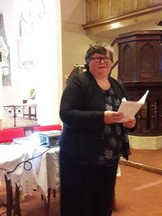 We welcome Lesley Bayley as the new Diocesan President of
Cashel, Ferns, Ossory Mothers' Union.
We wish her every blessing in her new role.
Lesley is also a Diocesan Reader.
A Letter from the Diocesan President
Lesley Bayley
'Brother, sister, let me serve you, let me be as Christ to you',
words penned in the mid 1970's by modern hymnist, New Zealander, Richard Gillard. This is one of my favourite hymns, and since first discovering it, it has become what I consider to be a personal 'mission statement'.
But I also think as I read those words again that it could be an 'anthem' for Mothers' Union members. After-all what we do every day is to try to serve those less fortunate than ourselves, by continuing the work Jesus started here on earth 2000 years ago – reaching out to the marginalized, the poor, the lonely, and the hurting.
· By helping to fundraise in order to support vital work overseas, including literacy and financial education programmes.
· By knitting hats, blankets, and angel jackets for premature and still-born babies; comfort teddies for children in emergency situations; and fiddle blankets for dementia and Alzheimer's patients.
· By supporting AFIA and giving a child or family the opportunity of time away that they couldn't otherwise afford.
· By promoting the injustice of gender-based violence against women through the 16 days of activism.
· By supporting refugees; undertaking prison work; and visiting the elderly.
· By offering relief aid to countries effected by drought, flood, or famine.
· By pray and worship – and every day following the example of Jesus.
· And by being the backbone of parish life – although often without any real acknowledgement.
This year our theme is 'MULOA' – 'Mothers' Union Listening, Observing, and Acting, in step with God'. So, as we journey through 2109 let us remember that as we do so we walk in step with God, putting a human face to the compassion shown by Jesus Christ, in expressing and embodying his love, care, and concern for those in need. 'We serve, and we hold our hand out to them' in whatever way we can.
Lesley Bayley
– Diocesan President
Mothers' Union Video
Click on the Mothers' Union emblem below to see the video highlighting the work of Mothers' Union which was filmed at the Triennial Conference in Termonfeckin in March 2017
The video features members of Mothers' Union from around Ireland telling all about the organisation and the many different projects supported by Mothers' Union both here at home and in Third World Countries.
One of the clips features our very own Joan Blake who can be seen knitting a matinee jacket and talking about the Mothers' Union Knitting Project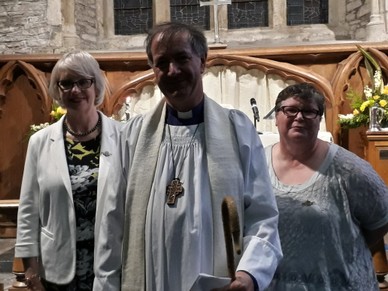 Bishop Michael & June Butler All-Ireland President
Lesley Bayley ~ Diocesan President
Click on the picture above to bring you
to a report on the Festival Service 2019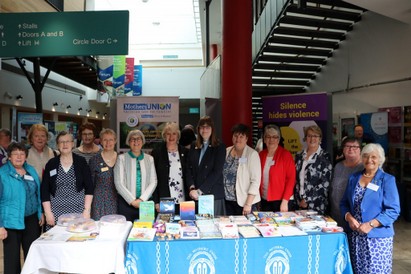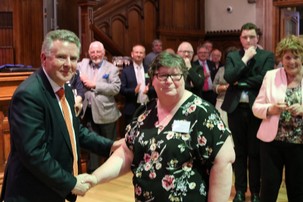 Mother's Union at Synod 2019
Many members from the Diocese attended the General Synod in the
Millennium Forum, Derry/Londonderry, 16th – 18th May. Some of our members appear in the picture on the left at the Mothers' Union stand at Synod, along with the All-Ireland President, June Butler. The Mothers' Union stand is always very popular and does a great deal to promote the work of Mothers' Union at home and abroad.
We were delighted that our website was awarded the runners-up prize for websites in "The Affiliated Associations" section. Lesley Bayley, our Diocesan President, was present at a function in The Guild Hall to collect the award.
The winning website in this section was Dublin/Glendalough Mothers' Union.
The judges had the following to say about the website:
'… a website packed with information about the work of the Mother's Union. It is kept up to date and gives a good sense of the identity and the work of the organisation.'
PRAYER FOR MULOA
We pray that our God will make us fit for what he's called us to be,
that he'll fill our good ideas and acts of faith with his own energy
so that it all amounts to something.
As our lives honour the name of Jesus,
may he honour us, by his grace; our God giving himself freely,
the Master, Jesus Christ, giving himself freely.
Amen
Based on 2 Thessalonians 1:11-12 (The Message)
Women's Weekend 2019
18th/19th October
THEME:
Words of Wisdom
Speakers
Bishop Ken Clarke & Helen Clarke
Republic of Ireland:
Mothers' Union in Ireland is recognised as a Charity by the Revenue Commissioners, 5161.

Registered Charity Number - 20007331 (Charities Regulatory Authority).

Mothers' Union Theme 2019

Listen, Observe, Act ~
in step with God

Please click on the image on your left
to access the Privacy Statement
Cashel, Ferns, Ossory Mothers' Union