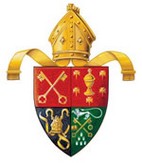 Welcome to the
Cashel, Ferns, Ossory Mothers' Union
website. The website will carry news, articles and photographs of Mothers' Union events throughout the United Diocese and also All-Ireland news.
The website will be regularly updated and if any Branch wishes to have an event, article or photograph published on the website please forward it to our Diocesan Secretary, Margaret Jacob.
Email: cfomothersunion@gmail.com
Please ensure that you have permission from any person who is going to be named in a photograph before sending it in to appear on the website.
All photographs and articles will remain copyright of the website and may not be copied.
News Updates
The Rolling Spinner below can be used to advertise events and meetings in your Area or Branch.
Holding your mouse over the spinner will stop it
If you would like to advertise an event on the Spinner please contact The Diocesan Secretary, Margaret Jacob.
(Contact details are available on the home page)
CONTACT DETAILS

Cashel, Ferns, Ossory
Diocesan Secretary: Margaret Jacob
Cashel, Ferns, Ossory Mothers' Union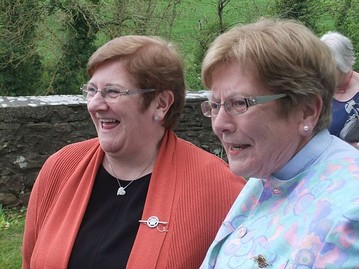 Lynne Tembey (Worldwide President) &
Revd. Margaret Sykes (Diocesan President)
A Letter from the Diocesan President
Revd, Margaret Sykes
Welcome to Cashel Ferns and Ossory Mothers' Union Website. As you navigate our Website you will find many areas of interest. Events past, present and future, a gallery of photographs covering many of the celebrations marking 130 years of Mothers' Union in Ireland and news from Branches and members. Keep sending in your news and photographs.
2017 was a wonderful year of Celebration for Mothers' Union in Ireland. We have so much to give thanks to God for as we travelled through this wonderful year. In this Diocese "130 years of Love and Service" has been celebrated in many ways, Prayer Walks, Afternoon Tea Parties, Festival Service, Tree Planting Ceremony, 130th Birthday Party and individual Branches hosting events in different parts of the United Diocese, the photographs which have been inserted in Comun tell the story of many of these special days.
Just some of the highlights – The M U Way - All-Ireland President, Phyllis Grothier visited all twelve Dioceses during May. Accompanied by Mrs. Lynne Tembey, World-wide President, she visited Cashel Ferns and Ossory for a Prayer Service in St. Laserian's Cathedral followed by a Tree planting ceremony in the grounds of the Cathedral. CFO MU now own a spade!!! The Festival Service in May on the Feast of the Visitation in St. Canice's Cathedral, Kilkenny at which seven new members of the Trustee Board were commissioned by Bishop Michael. The Big Sing in the National Concert Hall, Dublin, in September was a wonderful occasion and enjoyed by all who attended.
Autumn/Winter activities have begun in many Branches throughout the Diocese. I wish you God's blessing on all that you have planned for the coming months.
Thirteen decades of M.U. outreach and witness has been celebrated, as we go forward we give thanks to God for all his blessings and as Mary Sumner herself prayed let us be those who hear God's call to touch as many lives as possible through our words and actions not only in our Parishes but the wider community as well.
Margaret Sykes

Mothers' Union Video
Click on the Mothers' Union emblem below to see the video highlighting the work of Mothers' Union which was filmed at the Triennial Conference in Termonfeckin in March 2017
The video features members of Mothers' Union from around Ireland telling all about the organisation and the many different projects supported by Mothers' Union both here at home and in Third World Countries.
One of the clips features our very own Joan Blake who can be seen knitting a matinee jacket and talking about the Mothers' Union Knitting Project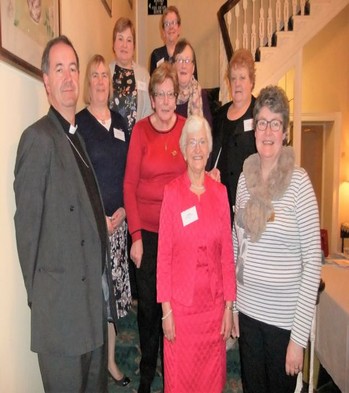 Members from Cashel, Ferns & Ossory at the Triennial Conference
PRAYER FOR MULOA
We pray that our God will make us fit for what he's called us to be,
that he'll fill our good ideas and acts of faith with his own energy
so that it all amounts to something.
As our lives honour the name of Jesus,
may he honour us, by his grace; our God giving himself freely,
the Master, Jesus Christ, giving himself freely.
Amen
Based on 2 Thessalonians 1:11-12 (The Message)

Letter to Politicians

Mothers' Union has launched a campaign to lobby politicians re Gender Based Violence and urge Branches/Individuals to send letters to their public representatives to highlight this issue.
Click on the images on your left to access a copy of either the Branch Letter or the Individual Letter.
Please click on the image on your left
to access the Privacy Statement
Cashel, Ferns, Ossory Mothers' Union
Republic of Ireland:
Mothers' Union in Ireland is recognised as a Charity by the Revenue Commissioners, 5161.

Registered Charity Number - 20007331 (Charities Regulatory Authority).

Mothers' Union Theme 2019
Listen, observe, act -
in step with God