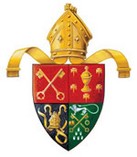 Welcome to the
Cashel, Ferns, Ossory Mothers' Union
website. The website will carry news, articles and photographs of Mothers' Union events throughout the United Diocese and also All-Ireland news.
The website will be regularly updated and if any Branch wishes to have an event, article or photograph published on the website please forward it to our Diocesan Secretary, Margaret Jacob.
Email: cfomothersunion@gmail.com
Please ensure that you have permission from any person who is going to be named in a photograph before sending it in to appear on the website.
All photographs and articles will remain copyright of the website and may not be copied.
News Updates
The Rolling Spinner below can be used to advertise events and meetings in your Area or Branch.
Holding your mouse over the spinner will stop it
If you would like to advertise an event on the Spinner please contact The Diocesan Secretary, Margaret Jacob.
(Contact details are available on the home page)
CONTACT DETAILS

Cashel, Ferns, Ossory
Mothers' Union
For further information please contact:
Diocesan Secretary: Margaret Jacob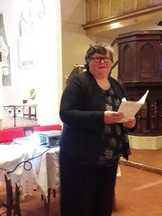 We welcome Lesley Bayley as the new Diocesan President of
Cashel, Ferns, Ossory Mothers' Union.
We wish her every blessing in her new role.
Lesley is also a Diocesan Reader.
A Letter from the Diocesan President
Lesley Bayley
I would like to begin by thanking all those who sent cards, emails, texts, telephoned me, and/or came to my father's funeral. I was deeply touched by your support and prayers throughout his short illness, and can never thank you all enough for your kindness to me on his passing.
On Saturday the 2
nd of November
a number of Diocesan Trustees travelled to the Springfield Hotel, in Leixlip, for the All Ireland Autumn Council. There was lots to be discussed, including the news that a new AI Honorary Treasurer has been appointed. He is the Revd. Ken Rue, who ministers in Killesky, Co. Wicklow, and is by profession a chartered accountant.
June Butler and Jacqui Armstrong launched the Mothers' Union involvement in the 'Thursdays in Black' initiative, which was originally introduced by the World Council of Churches in 1998, and re-launched in 2018, as a means to campaign for an end to violence and rape worldwide. This is turn was launched on Tuesday the 5
th
at our own Autumn Diocesan Council meeting in the Dolmen Hotel, in Carlow.
There was a good attendance, but many branches were once again not represented. While I appreciate that some people may for various reasons not be able to travel, it is important that branches send someone in order to keep up to date with information at both diocesan and All Ireland level.
Every good wish and blessing,
Lesley Bayley BA ThM
Diocesan President Cashel, Ferns and Ossory
Dates for your diary:
Sunday 8th of December

~ 16 Days service in Waterford Cathedral at 4pm.



Sunday 15th of March 2020

~ Festival Service in St. Mary's, Clonmel at 3.30pm.



Sunday 29th of March 2020

~ Service with Sheran Harper (Worldwide President) in St. Patrick's Cathedral, Dublin at 3.15pm.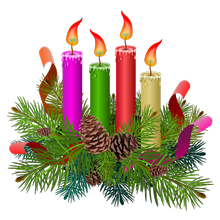 Wishing all members a very
Happy & Peaceful Christmas
Mothers' Union Video
Click on the Mothers' Union emblem below to see the video highlighting the work of Mothers' Union which was filmed at the Triennial Conference in Termonfeckin in March 2017
The video features members of Mothers' Union from around Ireland telling all about the organisation and the many different projects supported by Mothers' Union both here at home and in Third World Countries.
One of the clips features our very own Joan Blake,who can be seen knitting a matinee jacket and talking about the Mothers' Union Knitting Project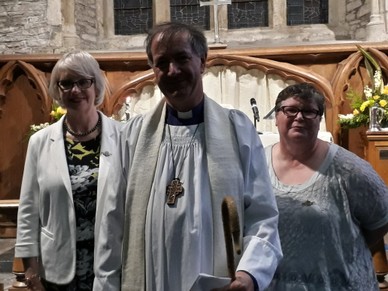 Bishop Michael & June Butler All-Ireland President
Lesley Bayley ~ Diocesan President
Click on the picture above to bring you
to a report on the Festival Service 2019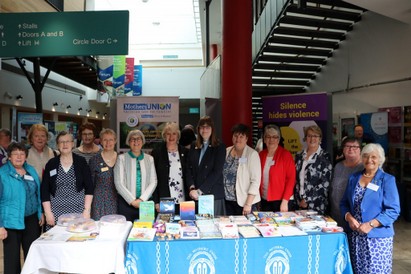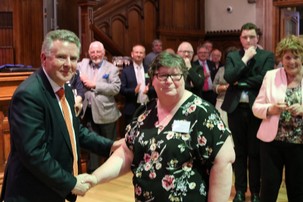 Mother's Union at Synod 2019
Many members from the Diocese attended the General Synod in the
Millennium Forum, Derry/Londonderry, 16th – 18th May. Some of our members appear in the picture on the left at the Mothers' Union stand at Synod, along with the All-Ireland President, June Butler. The Mothers' Union stand is always very popular and does a great deal to promote the work of Mothers' Union at home and abroad.
We were delighted that our website was awarded the runners-up prize for websites in "The Affiliated Associations" section. Lesley Bayley, our Diocesan President, was present at a function in The Guild Hall to collect the award.
The winning website in this section was Dublin/Glendalough Mothers' Union.
The judges had the following to say about the website:
'… a website packed with information about the work of the Mother's Union. It is kept up to date and gives a good sense of the identity and the work of the organisation.'
PRAYER FOR MULOA
We pray that our God will make us fit for what he's called us to be,
that he'll fill our good ideas and acts of faith with his own energy
so that it all amounts to something.
As our lives honour the name of Jesus,
may he honour us, by his grace; our God giving himself freely,
the Master, Jesus Christ, giving himself freely.
Amen
Based on 2 Thessalonians 1:11-12 (The Message)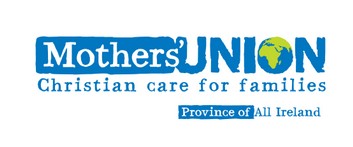 Republic of Ireland:
Mothers' Union in Ireland is recognised as a Charity by the Revenue Commissioners, 5161.

Registered Charity Number - 20007331 (Charities Regulatory Authority).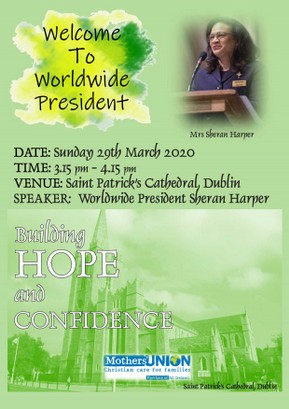 Please click on the image on your left
to access the Privacy Statement
Cashel, Ferns, Ossory Mothers' Union