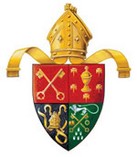 Welcome to the
Cashel, Ferns, Ossory Mothers' Union
website. The website will carry news, articles and photographs of Mothers' Union events throughout the United Diocese and also All-Ireland news.
The website will be regularly updated and if any Branch wishes to have an event, article or photograph published on the website please forward it to our Diocesan Secretary, Margaret Jacob.
Email: cfomothersunion@gmail.com
Please ensure that you have permission from any person who is going to be named in a photograph before sending it in to appear on the website.
All photographs and articles will remain copyright of the website and may not be copied.
News Updates
The Rolling Spinner below can be used to advertise events and meetings in your Area or Branch.
Holding your mouse over the spinner will stop it
If you would like to advertise an event on the Spinner please contact The Diocesan Secretary, Margaret Jacob.
(Contact details are available on the home page)
CONTACT DETAILS

Cashel, Ferns, Ossory
Mothers' Union
For further information please contact:
Diocesan Secretary: Margaret Jacob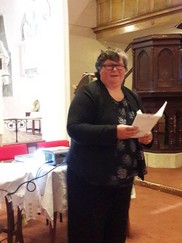 We welcome Lesley Bayley as the new Diocesan President of
Cashel, Ferns, Ossory Mothers' Union.
We wish her every blessing in her new role.
Lesley is also a Diocesan Reader.
A Letter from the Diocesan President
Lesley Bayley
The Ireland of today is very different to that of the Ireland of 2019, or of the Ireland of last week. Every day the coronavirus changes our society, and the way we act, and react, within it. The knock-on effects are far-ranging, and even the Mothers' Union has suffered at the hands of it, with cancellations and postponements of events throughout the country and worldwide.
Please God this current nightmare will pass and at some time in the not too distant future we will live in a 'new normal', or to quote Pope Francis, 'Tonight before falling asleep think about when we will return to the street. When we hug again, when all the shopping together will seem like a party. Let's think about when the coffees will return to the bar, the small talk, the photos close to each other. We think about when it will be all a memory but normality will seem an unexpected and beautiful gift. We will love everything that has so far seemed futile to us. Every second will be precious. Swims at the sea, the sun until late, sunsets, toasts, laughter. We will go back to laughing together. Strength and courage.'
I wish every one of you well as we journey through the uncertainty of the days and weeks ahead; stay safe, try to stay positive, and please continue to hold each other in pray, and by God's grace we will all come out the other side of this frightening adversity.
O God, the author of peace and lover of concord, to know you is eternal life, and to serve you is perfect freedom. Defend us in all assaults of our enemies, that we surely trusting in your protection, may not fear the power of any adversaries, through Jesus Christ our Lord. Amen.
Sunday 15th of March: Festival Service in St. Mary's, Clonmel at 3.30pm.
POSTPONED
Sunday 29th of March: Service with Sheran Harper (Worldwide President) in St. Patrick's Cathedral, Dublin at 3.15pm.
CANCELLED
Wednesday 29th of April:
Spring Council in the Dolmen Hotel, Carlow.
CANCELLED
Mothers' Union Video
Click on the Mothers' Union emblem below to see the video highlighting the work of Mothers' Union which was filmed at the Triennial Conference in Termonfeckin in March 2017
The video features members of Mothers' Union from around Ireland telling all about the organisation and the many different projects supported by Mothers' Union both here at home and in Third World Countries.
One of the clips features our very own Joan Blake who can be seen knitting a matinee jacket and talking about the Mothers' Union Knitting Project
Click on the image below to bring you to a message from
Sheran Harper ~ Worldwide President
Below also is a link to the main Mothers' Union
Facebook Page
The All-Ireland Facebook Page
This is a closed group and you may request access to it.
Thoughts & Prayers
Our thoughts and prayers are with everyone at this difficult time. It is indeed a challenging time for everyone but we hope and pray that you all keep safe and well.
Rev. Ian Crickshank has been holding a prayer time in all of his churches every evening and it is very comforting just to come and sit quietly in the church and pray. He has produced a prayer leaflet for use on these evenings and he has very kindly given permission to reproduce this on our website.
Please click on the image on your right to access the leaflet and feel free to print it off and give to anyone who may like to have a copy.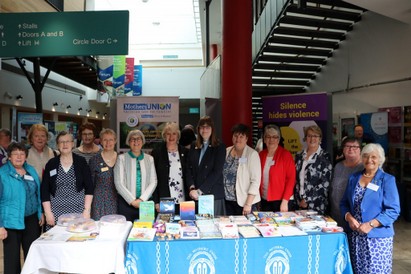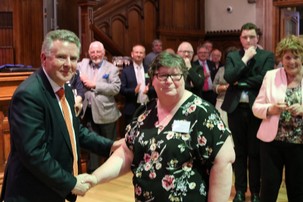 Mother's Union at Synod 2019
Many members from the Diocese attended the General Synod in the
Millennium Forum, Derry/Londonderry, 16th – 18th May. Some of our members appear in the picture on the left at the Mothers' Union stand at Synod, along with the All-Ireland President, June Butler. The Mothers' Union stand is always very popular and does a great deal to promote the work of Mothers' Union at home and abroad.
We were delighted that our website was awarded the runners-up prize for websites in "The Affiliated Associations" section. Lesley Bayley, our Diocesan President, was present at a function in The Guild Hall to collect the award.
The winning website in this section was Dublin/Glendalough Mothers' Union.
The judges had the following to say about the website:
'… a website packed with information about the work of the Mother's Union. It is kept up to date and gives a good sense of the identity and the work of the organisation.'
PRAYER FOR MULOA
We pray that our God will make us fit for what he's called us to be,
that he'll fill our good ideas and acts of faith with his own energy
so that it all amounts to something.
As our lives honour the name of Jesus,
may he honour us, by his grace; our God giving himself freely,
the Master, Jesus Christ, giving himself freely.
Amen
Based on 2 Thessalonians 1:11-12 (The Message)
Republic of Ireland:
Mothers' Union in Ireland is recognised as a Charity by the Revenue Commissioners, 5161.

Registered Charity Number - 20007331 (Charities Regulatory Authority).

Mothers' Union Theme 2020

Building Hope & Confidence

Please click on the image on your left
to access the Privacy Statement
Cashel, Ferns, Ossory Mothers' Union