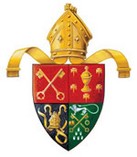 Welcome to the
Cashel, Ferns, Ossory Mothers' Union
website. The website will carry news, articles and photographs of Mothers' Union events throughout the United Diocese and also All-Ireland news.
The website will be regularly updated and if any Branch wishes to have an event, article or photograph published on the website please forward it to our Diocesan Secretary, Margaret Jacob.
Email: cfomothersunion@gmail.com
Please ensure that you have permission from any person who is going to be named in a photograph before sending it in to appear on the website.
All photographs and articles will remain copyright of the website and may not be copied.
News Updates
The Rolling Spinner below can be used to advertise events and meetings in your Area or Branch.
Holding your mouse over the spinner will stop it
If you would like to advertise an event on the Spinner please contact The Diocesan Secretary, Margaret Jacob.
(Contact details are available on the home page)
CONTACT DETAILS

Cashel, Ferns, Ossory
Mothers' Union
For further information please contact:
Diocesan Secretary: Margaret Jacob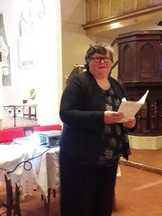 We welcome Lesley Bayley as the new Diocesan President of
Cashel, Ferns, Ossory Mothers' Union.
We wish her every blessing in her new role.
Lesley is also a Diocesan Reader.
A Letter from the Diocesan President
Lesley Bayley
I hope you have all had a restful and enjoyable summer and are now rearing to go as we begin a new season in our Mothers' Union life.
On August 9th
– Mary Sumner Day – a prayer service and walk were held in St. Mary's, Carlow. Unfortunately, the day dawned with a yellow weather warning and followed a night of heavy rain, along with thunder and lightning. Not deterred by such things many members turned out and we held the whole service indoors. We then adjourned to the community house for refreshments and chat. Thank you to Revd. David White, Liz and Ger for accommodating us on the day, and to Phyllis and Vivien for bringing the enterprise stall.
As we look to the future there are several exciting events happening within
the next year. The first is of course the Baby Changing at the National Ploughing Championships, taking place later this month. If you haven't already volunteered to help out and would like to do so, please contact Linda Ward or Margaret Jacob asap.
Then there is the production of a new cookbook. Each diocese has been asked to submit for 15 recipes; 5 starters, 5 mains, and 5 desserts. These need to be written out with a full list of ingredients and step by step instructions. You will also need to cook your recipe as you need to send us a photograph of it too. Please send your recipes and photos to myself, or Margaret Jacob, by October 21
st.
We cannot promise yours will be included, but as they say, 'if you're not in you can't win.'
The other two exciting events take place in 2020. The first of which is Evensong Service in St. Patrick's Cathedral, Dublin on Sunday March 29
th,
when we will all have the opportunity to meet the Worldwide President, Sheran Harper. And in September of next year Belfast will play host to the General Meeting, where our newly produced cookbook will be launched.
The diocesan voting papers are due to be returned in a few days, after which hopefully we will once again have a full board of trustees. We wish Linda Ward all the best for the future and thank her for her service as Vice President of Ossory.
Every good wish and blessing,
Diocesan President Cashel, Ferns and Ossory
Mothers' Union Video
Click on the Mothers' Union emblem below to see the video highlighting the work of Mothers' Union which was filmed at the Triennial Conference in Termonfeckin in March 2017
The video features members of Mothers' Union from around Ireland telling all about the organisation and the many different projects supported by Mothers' Union both here at home and in Third World Countries.
One of the clips features our very own Joan Blake who can be seen knitting a matinee jacket and talking about the Mothers' Union Knitting Project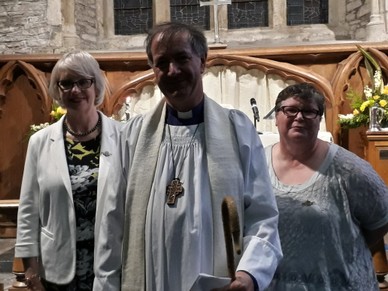 Bishop Michael & June Butler All-Ireland President
Lesley Bayley ~ Diocesan President
Click on the picture above to bring you
to a report on the Festival Service 2019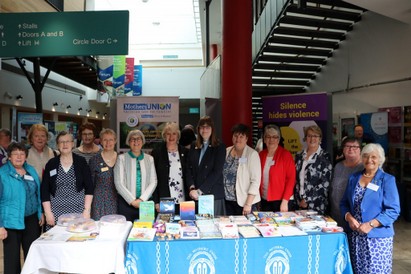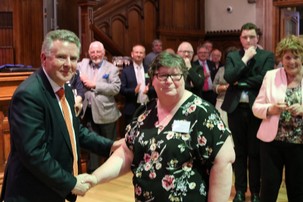 Mother's Union at Synod 2019
Many members from the Diocese attended the General Synod in the
Millennium Forum, Derry/Londonderry, 16th – 18th May. Some of our members appear in the picture on the left at the Mothers' Union stand at Synod, along with the All-Ireland President, June Butler. The Mothers' Union stand is always very popular and does a great deal to promote the work of Mothers' Union at home and abroad.
We were delighted that our website was awarded the runners-up prize for websites in "The Affiliated Associations" section. Lesley Bayley, our Diocesan President, was present at a function in The Guild Hall to collect the award.
The winning website in this section was Dublin/Glendalough Mothers' Union.
The judges had the following to say about the website:
'… a website packed with information about the work of the Mother's Union. It is kept up to date and gives a good sense of the identity and the work of the organisation.'
PRAYER FOR MULOA
We pray that our God will make us fit for what he's called us to be,
that he'll fill our good ideas and acts of faith with his own energy
so that it all amounts to something.
As our lives honour the name of Jesus,
may he honour us, by his grace; our God giving himself freely,
the Master, Jesus Christ, giving himself freely.
Amen
Based on 2 Thessalonians 1:11-12 (The Message)
Women's Weekend 2019
18th/19th October
THEME:
Words of Wisdom
Speakers
Bishop Ken Clarke & Helen Clarke
Republic of Ireland:
Mothers' Union in Ireland is recognised as a Charity by the Revenue Commissioners, 5161.

Registered Charity Number - 20007331 (Charities Regulatory Authority).

Mothers' Union Theme 2019

Listen, Observe, Act ~
in step with God

Please click on the image on your left
to access the Privacy Statement
Cashel, Ferns, Ossory Mothers' Union