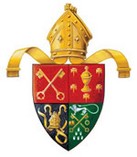 Welcome to the
Cashel, Ferns, Ossory Mothers' Union
website. The website will carry news, articles and photographs of Mothers' Union events throughout the United Diocese and also All-Ireland news.
The website will be regularly updated and if any Branch wishes to have an event, article or photograph published on the website please forward it to our Diocesan Secretary, Margaret Jacob.
Email: cfomothersunion@gmail.com
Please ensure that you have permission from any person who is going to be named in a photograph before sending it in to appear on the website.
All photographs and articles will remain copyright of the website and may not be copied.
News Updates
The Rolling Spinner below can be used to advertise events and meetings in your Area or Branch.
Holding your mouse over the spinner will stop it
If you would like to advertise an event on the Spinner please contact The Diocesan Secretary, Margaret Jacob.
(Contact details are available on the home page)
CONTACT DETAILS

Cashel, Ferns, Ossory
Mothers' Union
For further information please contact:
Diocesan Secretary: Margaret Jacob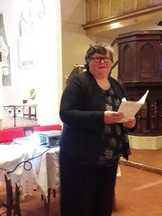 We welcome Lesley Bayley as the new Diocesan President of
Cashel, Ferns, Ossory Mothers' Union.
We wish her every blessing in her new role.
Lesley is also a Diocesan Reader.
A Letter from the Diocesan President
Lesley Bayley
As I write these words we have just completed a busy three days at the National Ploughing Championships in Fenagh, and the Mothers' Union General Meeting in Portsmouth.
Most branches are now back after their summer break and I would encourage those who still do not operate as per the tax/financial year, January to December to please consider changing over in the coming months. This will make life so much easier for your treasurer and in turn for our diocesan treasurer.
We hope in the coming months to begin running 'district meeting' – these will be meeting held between three or four branches, which all members are invited to attend – but will be completely separate to 'area meeting' hosted by the Vice Presidents. These meeting will be, if you like, 'business meetings' hosted by myself, Margaret Jacob and Canon Barara Fryday. At them Barbara will answer any questions relating to finance and give an in-depth demonstration of how the end of year return form should be filled out, as many still struggle with this. Whilst Margaret and I will help with basic computer skills or anything else that may be of use to branches and their members. This will also give us an opportunity to meet members and to share information with them.
Diocesan Trustees have agreed to make some changes, which in essence change nothing and may even to some seem pointless, but at the same time bring us in line with all other dioceses. Our Vice Presidents title will now be that of the unit to which they are attached – Naomi Besanson VP for Faith and Policy; Linda Ward VP for Fundraising and Communication; Patricia Coleman VP for Action and Outreach; and Bessie Corrigan VP for Finance and Central Services. And for the purposes of communication and meetings the four 'areas' will now become three, with Ossory and Cashel joining together.
More details about these and lots of other things happening in the diocese will be shared at Autumn Council which takes place on Tuesday the 5th of November, in the Woodford Dolmen Hotel, Carlow. Registration and light refreshments from 10am; Eucharist service at 10.30am; and the meeting commencing immediately afterwards.
Every good wish and blessing,
Diocesan President Cashel, Ferns and Ossory
Mothers' Union Video
Click on the Mothers' Union emblem below to see the video highlighting the work of Mothers' Union which was filmed at the Triennial Conference in Termonfeckin in March 2017
The video features members of Mothers' Union from around Ireland telling all about the organisation and the many different projects supported by Mothers' Union both here at home and in Third World Countries.
One of the clips features our very own Joan Blake who can be seen knitting a matinee jacket and talking about the Mothers' Union Knitting Project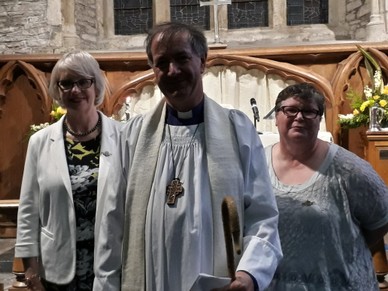 Bishop Michael & June Butler All-Ireland President
Lesley Bayley ~ Diocesan President
Click on the picture above to bring you
to a report on the Festival Service 2019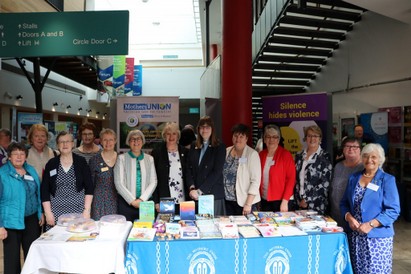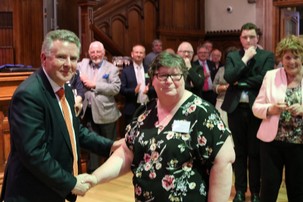 Mother's Union at Synod 2019
Many members from the Diocese attended the General Synod in the
Millennium Forum, Derry/Londonderry, 16th – 18th May. Some of our members appear in the picture on the left at the Mothers' Union stand at Synod, along with the All-Ireland President, June Butler. The Mothers' Union stand is always very popular and does a great deal to promote the work of Mothers' Union at home and abroad.
We were delighted that our website was awarded the runners-up prize for websites in "The Affiliated Associations" section. Lesley Bayley, our Diocesan President, was present at a function in The Guild Hall to collect the award.
The winning website in this section was Dublin/Glendalough Mothers' Union.
The judges had the following to say about the website:
'… a website packed with information about the work of the Mother's Union. It is kept up to date and gives a good sense of the identity and the work of the organisation.'
PRAYER FOR MULOA
We pray that our God will make us fit for what he's called us to be,
that he'll fill our good ideas and acts of faith with his own energy
so that it all amounts to something.
As our lives honour the name of Jesus,
may he honour us, by his grace; our God giving himself freely,
the Master, Jesus Christ, giving himself freely.
Amen
Based on 2 Thessalonians 1:11-12 (The Message)
Republic of Ireland:
Mothers' Union in Ireland is recognised as a Charity by the Revenue Commissioners, 5161.

Registered Charity Number - 20007331 (Charities Regulatory Authority).

Mothers' Union Theme 2019

Listen, Observe, Act ~
in step with God

Please click on the image on your left
to access the Privacy Statement
Cashel, Ferns, Ossory Mothers' Union