We are delighted that Patricia Coleman has agreed to boecome VP Action & Outreach and for Leighlin Area and we wish her well in her new role in Mothers' Union in The Diocese. Patricia was commissioned at the Festival Service in Gorey on Wednesday 16th May 2018.
The highlight of the year in Leighlin Area was the formation of a new Branch in Old Leighlin. Linda Ward, VP Ossory, Lilia Harper and Linda Condell represent the Diocese at a service on Sunday 30th April 2017 at which 15 new members were enrolled, three of whom were men. It is really wonderful and exciting to see a new Branch being opened in the Diocese.
We had a very special day in Old Leighlin when Phyllis Grothier and Lynne Tembey visited Old Leighlin for a Prayer Service and Tree Planting Ceremony on Thursday 11th May 2017 as part of the MU Way. Over a hundred members from the Diocese and beyond attended this special occasion. Our thanks to the newly formed branch in Old Leighlin for hosting the refreshments after the tree planting.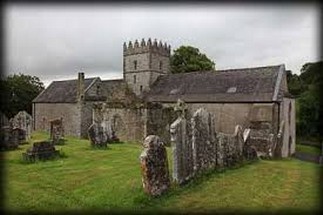 Mothers' Union Festival Service
The 2019 Festival Service took place in St. Laserian's Cathedral on 29th May and we were delighted to have the All-Ireland President of Mother's Union, June Butler, present at the service. Also present were two former All-Ireland Presidents, Phyllis Grothier and Anne Barrett and the Diocesan President of Meath and Kildare, Sylvia Wheatley. The Service was very well attended and the following were commissioned at the service:
Lesley Bayley ~ Diocesan President
Canon Barbara Fryday ~ Diocesan Treasurer
Naomi Besanson ~ Vice President Faith & Policy
Elizabeth Corrigan ~ Vice President Finance & Central Services
Elizabeth Johnston ~ Unit Co-ordinator Faith & Policy
Pearl Olsen ~ Unit Co-ordinator Action & Outreach
Our thanks to Dean Tom Gordon, Canon Mark Hayden and Lesley Bayley for all of the thought and effort that was put into the service. The service was led by Bishop Michael, and we greatly appreciate all of the support he gives to Mothers' Union in the United Diocese. The special preacher was our Diocesan Chaplain, Canon Mark Hayden, and Dean Tom played the organ. Lessons were read by William Bayley, Tania Hanan and June Butler and the prayers were led by Joan Blake, Margaret Jacob, Vivien Black, Linda Ward and Elizabeth Johnston. The Growlers Men's Group, which is led by Lesley Bayley and accompanied by Naomi Besanson on the organ, sang during the Communion.
Following the service refreshments were served in the adjoining lady chapel. June Butler thanked everyone for the kind welcome she had received. Lesley Bayley thanked everyone for attending, Dean Tom Gordon for the use of the cathedral and everyone who was involved in making the evening such a special occasion. Presentations were made to Margaret Jacob, following the website receiving the runners-up prize at Synod, and to June Butler.
Our thanks to Leighlin Branch of Mothers' Union for hosting the refreshments after the service.
Newly appointed Trustees with Bishop Michael
and All-Ireland President of Mothers' Union, June Butler
in St. Laserian's Cathedral
Festival Service ~ 29/5/2019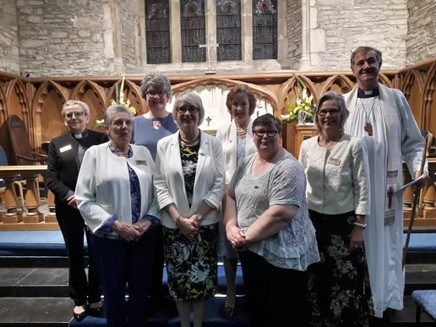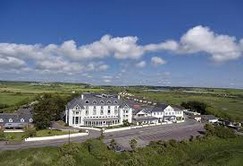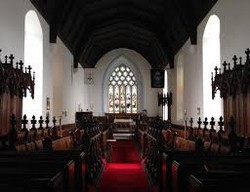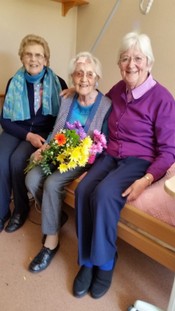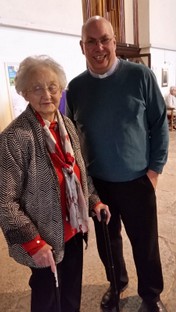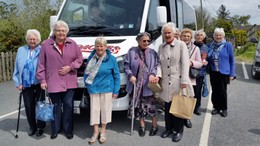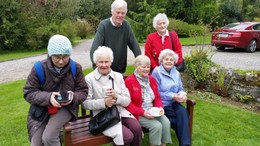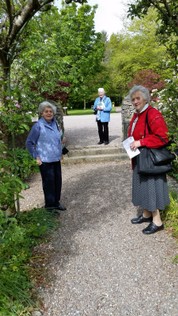 2019 Tour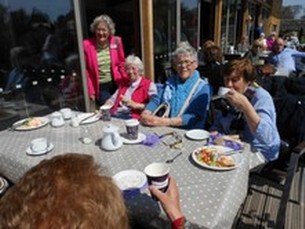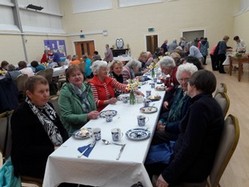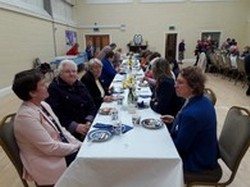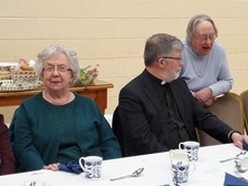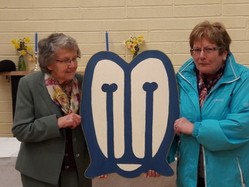 Spring Council in Kiltegan/Hacketstown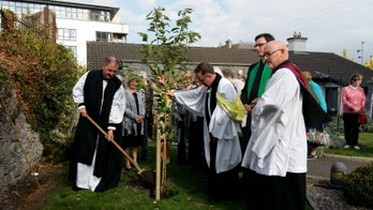 Planting a tree in Carlow to commemorate 100th Anniversay of the Carlow/Killeshin Branch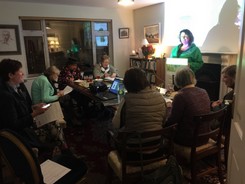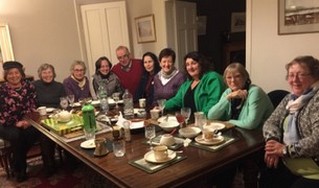 Two Photographs above of the Historic first Meeting of
Leighlin Branch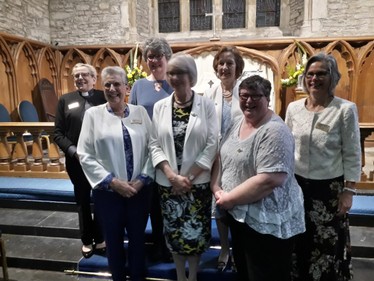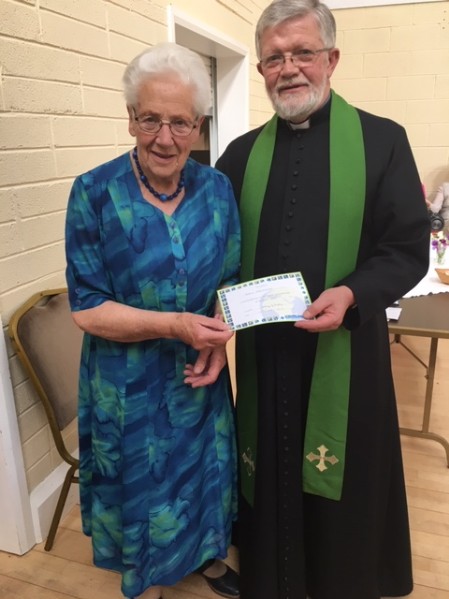 Leighlin Banches News
Phyllis Foot from Abbeyleix Branch organises the Diocesan Tour every year. This tour is greatly enjoyed by all who go on it. The 2019 headed to Co. Cork with The Garryvoe Hotel as their base. On Day 1 they headed off visiting the Dunbrody Centre for Tea/Coffee and then on to the Waterford & Suir Railway for a trip along the picturesque river Suir. They called in to see Curraghmore House and gardens on their way to their hotel base.
On Tuesday they went to Ballymaloe Cookery School to visit the gardens and shop and went to the Kilkenny Design Centre for lunch. In the afternoon they visited The Old Deanery Garden owned by Martin & Janet Edwards, and enjoyed a lovely afternoon tea on the patio. The following morning the group went to a Holy Communion service in Cloyne Cathedral and the celebrant was the Revd. Andrew Orr. A visit to Cobh followed, visiting the church and the Heritage Centre. They also visited the Collegiate Church of St. Mary, Youghal and the Jameson Distillery in Middleton.
On the way home on the Friday they called into Dungarvan, went to Waterford for lunch and visited Pat Sheppard in the nursing home.
Phyllis has also taken over as MU Enterprise Rep. for the Diocese and brings her stall with a variety of cards, literature, books and gift items to events throughout the Diocese such as Synod, Autumn & Spring Council and Area Meetings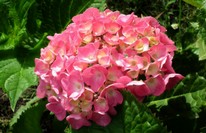 Abbeyleix Branch held their opening service for 2018/2019 in St. Michael and All Angels' Church, Abbeyleix on Wednesday 12th September.
The Vigil for the "Sixteen Days of Activism Against Gender Based Violence" took place in St Michael and All Angels' Church Abbeyleix. There was a very poignant display of shoes in the baptistry all bearing quite evocatice messages ... for exampole one sad
" I wore these to church and pretended all was OK".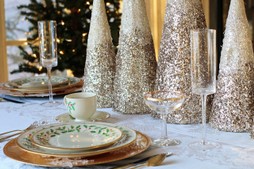 The Branch held their Christmas lunch in the Abbeyleix Manor Hotel on Wednesday 18th December and are looking forward to going to the pantomine on Monday 20th January.
Ballyfin: Founded 1905

Bagnelstown: Founded 1903
Bagnelstown Branch had their opening meeting on Thursday 2nd November 2017. Well done to the members who donated a total of 31 filled shoe boxes to "Team Hope".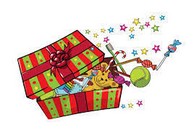 Carlow/Killeshin: Founded 1918
Carlow/Killeshin Mothers' Union celebrated their 100th Anniversary with a special service on
Wednesday 10th October @ 12 noon, 2018
. They were delighted to welcome Bishop Michael Burrows as the special preacher for this service.
A tree was planted in the grounds of the church to commemorate this special occasion. A reception was held afterwards in Killleshin Old Schoolhouse.
Carlow/Killeshin Branch has decided to hold its meetings on the first Wednesday of the month in the Community House at 10.30a.m. This will coincide with the Mid-week Eucharist which on the first Wednesday includes a service of Wholeness and Healing.
The Branch held their Mothers' Union Dinner in the Woodford Dolmen Hotel on Wednesday 16th January 2019.
The Branch hosted a soup and sandwiches event after the United Service on Low Sunday to raise funds for the planning stage of the Christmas Tree Festival.
The Branch held a meeting on 5th December at which they were tyreated to a demonstration by Vivienne Rigley who is accomplished in the art of decorating cakes. The Branch was also delighted to be involved in the Christmas Tree Festival in St. Mary's Church, Carlow. Their blue themed Christmas Tree was greatly admired.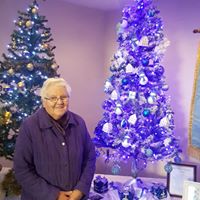 Kiltegan/Hacketstown: Founded 1906
In 2017 when we celebarated 130 years of
"Love & Service"
in Mothers' Union it was very fitting that two members from Kiltegan/Hacketstown Branch clocked up 130 years of membership in Mothers' Union between them. Nora Handbidge and Ruth Hamilton were both recognised at the 2017 Opening Service of their Branch as they had each joined Mothers' Union 65 years ago. Well done, Ladies.
Many thanks to Kiltegan/Hacketstown Branch for hosting the Spring Council of Mothers' Union on Tuesday 17th April 2018. Click on the picture below to bring you to an account of the day and a slideshow of pictures.
On the afternoon of July 10th 2018 one of Kiltegan/Hacketstown indoor members Chattie Jackson was presented with a 55 year certificate for being member of the Mothers' Union by the rector Rev. Robert Jones. Chattie iwas in her 98th year. We were very sorry to hear of the death of Chattie shortly after this special occasion and our thoughts and prayers are with all of her family.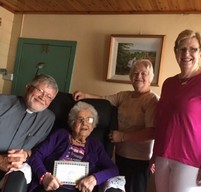 The Branch had their Opening Service for 2018/2019 on Tuesday 25th September
where two of our members were presented with a certificate for 55 years membership ~
Doreen Gillespie and Evelyn Jackson. See a picture on your left in the photo gallery.
The Branch held their Christmas Dinner in The Seven Oaks Hotel, Carlow on Tuesday 11th December and they were joined by Phyllis Grothier, All Ireland President and Revd. Margaret Sykes, Diocesan President. Everyone enjoyed a lovely evening of good chat and delicious food.
Mary Jackson received her 50 year certificate as a member of the Mothers Union from the rector Rev. Robert Jones at the opening meeting on 17th September 2019. (see picture on left at bottom of page)
Leighlin: Founded 2017

Welcome to Leighlin Branch, the latest Branch to be formed in the Diocese.
On the left are some photographs of the first ever Leighlin Branch meeting at the Deanery on December 14th 2017. The evening included a presentation by Dee Sewell - 'An Environmentally Friendly Christmas' . Dee is the County Carlow Recycling Ambassador for Voice Ireland and she gave a terrific talk on recycling waste from the Christmas season (packaging, paper, plastics etc).
We then had our casserole Christmas dinner. It was a great evening - terrific fun and a good turnout. A historic evening!
Activities for 2018-2019:
2nd December ~ Advent Service Of Light
Tuesday 8th December @ 7.30p.m.

~ The Dairy, Shankill Castle ~ Advent Reflections, Christmas Drinks & Supper ~ the speaker was Dee Sewell who gave an invigorating talk on the role of therapeutic horticulture. Everyone enjoyed a fun filled evening with plenty of laughter

Saturday 13th April 2019 @10.30a.m

.~ Shankill Castle ~ "In Conversation with Elizabeth Cope". Elizabeth, who is an artist, talked about her life and her work. There was a large attendance and everyone enjoyed refreshments in the catle's Coach House Coffee Shop.

Saturday 11th May @ 10.30 a.m.

~ Visit to Borris House

Wednesday 29th May @ 7.30

~ St John's Church, Shankill ~ Closing Eucharist
The 2019 service to mark the Sixteen Days of Activism against Gender Based Violence too place in the Cathedral on Saturday 23rd November.
Tullow/Fenagh: 1904
Tullow/Fenagh Branch held their Annual Outing on Saturday 31st August. Thgey visited Killashee House Hotel, Newbridge Shopping Centre and Castlecomer Discovery Park before enjoying a splendid evening meal in the Avalon Hotel, Castlecomer. This enjoyable outing was arranged by Hilda Watkins and Alice Rothwell.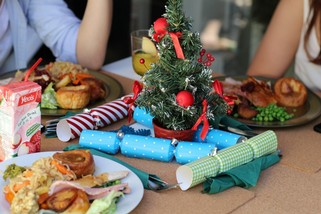 The Branch held an opening service to mark the new session on Tuesday 8th October in St. Columba's Church, Tullow, and was conducted by The Revd. Lester Scott.
The Branch held their Christmas Lunch in The Tara Arms, Tullow on Saturday 7th December.