The Diocese of Cashel, Ferns & Ossory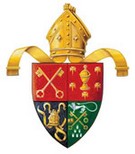 The United Diocese of Cashel, Ferns and Ossory consists of the following Dioceses and Unions/Groups:
Diocese of Cashel ~ Cashel Union, Kilcooley & Fertagh Union and Templemore Union of Parishes
Diocese of Waterford ~ Waterford Union
Diocese of Lismore ~ Fiddown Union, Clonmel Union and Lismore Union
Diocese of Ossory ~ Castlecomer Union, Clonenagh Group, Kells Union with Inistioge, Kilkenny Union and Rathdowney Union
Diocese of Leighlin ~ Abbeyleix & Killmernogh Union, Baltinglass Group, Carlow Union, Killeshin Union, Dunleckney Union, Fenagh/Myshall/Aghade/Ardoyne Union, Kiltegan Group, Leighlin Union, Portlaoise & Ballyfin Union, Stradbally Union and Tullow Group
Ferns Diocese ~ Ardamine/Kilnamanagh/Monamolin Group, Bunclody Union, Enniscorthy & Monart Union, Ferns Union, Gorey Group, Killanne/Killegney Union, New Ross/Fethard Union, Tinahely/Carnew Union and Wexford/Kilscoran Union
Mothers' Union Branches in the Diocese

Cashel, Ferns & Ossory
Branches ~ Cashel, Lismore, Kilcooley/Fertagh and Templemore
Branches ~ Castlecomer, Kilkenny, Mountrath and Rathdowney
Branches ~ Abbeyleix, Ballyfin, Bagnelstown, Carlow, Kiltegan, Old Leighlin and Tullow
Branches ~ Ardamine/Kilnamanagh, Ballycanew/Leskinfere/Monamolin, Bunclody, Enniscorthy, Ferns, Gorey, Killanne/Killegney, New Ross/Fethard-on-Sea and Wexford
You may become a Member of Mothers' Union by joining one of the Branches listed above or by becoming a Diocesan Member. All contact details are available from the
Diocesan Secretary:
Cecily Jones
New Trustees who were commissioned at the Festival Service
in
St. Canice's Cathedral, Kilkenny ~ May 2017
&
Christ Church, Gorey ~ May 2018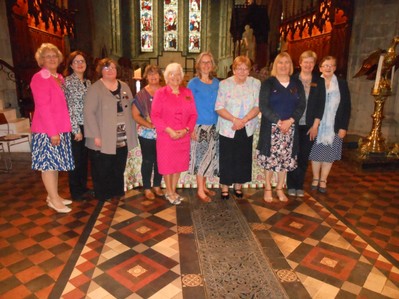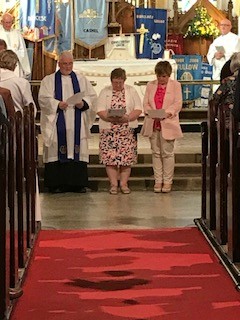 Cashel, Ferns, Ossory ~
Mothers' Union

Diocesan President – Lesley Bayley (2023-24)
Diocesan Secretary

– Cecily Jones

Diocesan Treasurer

– Cathy Walsh

Vice President Finance and Central Services

– Revd. Patricia Coleman

Unit Co-ordinator Finance and Central Services

– Cecily Jones

Vice President Faith and Policy

– Revd. Margaret Sykes

Unit Co-ordinator Faith and Policy

– Revd. Canon Trevor Sargent

Social Policy Representative

~ Linda Ward

Diocesan Chaplain

– Revd. Ger James

Indoor Members Representative –

Vivien Black

Vice President Action and Outreach

– Kathleen Rothwell

Unit Co-ordinator Action and Outreach

– Valerie Power

MU Enterprise

– Naomi Besanson

Vice President Fundraising and Communications

– Margaret Jacob

Unit Co-ordinator Fundraising and Communications

– William Bayley

Training Officer

– Phyllis Grothier
A Brief History of The Mothers' Union
The Mothers Union was formed in 1876 by Mary Sumner whose husband was Rector in Winchester at the time, and later became a Bishop. The organisation spread quickly, as many of the ladies involved, were army officers wives and when they went abroad started branches.
The first Mothers Union Branch in Ireland was formed in Raheny in 1887, by the Rector's wife Mrs Annabella Hayes in affiliation with Winchester Diocese. In 1901 the Bishop and Mrs Sumner visited Ireland.
The oldest Branch in The United Diocese of Cashel, Ferns & Ossory is Wexford Branch where early records state that a Branch was formed in 1892 with a membership of five. This was prior to setting up a Diocesan organisation in 1904, so the Branch was affiliated to Dublin. The next two Branches which were formed in the United Diocese were Lismore in 1894 and Kilkenny in 1895.
A new Diocesan Banner was designed and made by Frances Bradley when the United Diocese was named Cashel, Ferns, Ossory. The Banner was dedicated at the Festival Service in Enniscorthy in May 2015.
The latest Branch was formed in 2107 and it is in Old Leighlin.
Frances Bradley & Margaret Sykes
with the New Diocesan Banner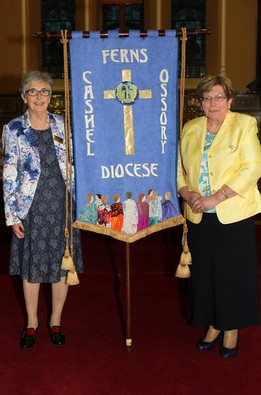 The beautiful banner was created by Frances
The Indoor members in the Diocese are looked after by Cecily Jones and Linda Condell. They keep in regular contact with indoor members sending them cards and letters on special occasions, visiting them and organising Afternoon Tea Parties.
Cecily very kindly hosted an Afternoon tea party for Indoor members in mid May. The afternoon was greatly enjoyed by all present.
See some photographs on the left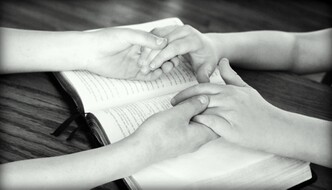 The
Prayer Chain is also greatly valued by members in the Diocese. Names are included in prayers for a month unless the prayer chain is notified to the contrary.
The Prayer Chain is coordinated by the Faith & Policy coordinator, Elizabeth Johnston.
Please contact any officer in your Mothers' Union Branch if you wish to have someone remembered in the Prayer Chain, and they will pass on all of the details to a member of the Prayer Chain.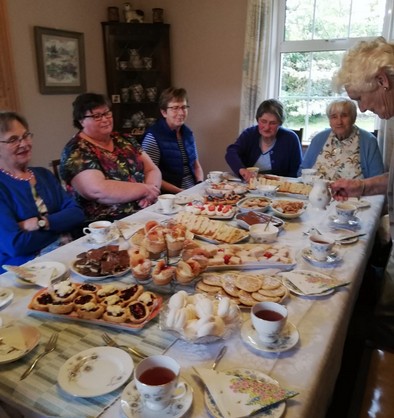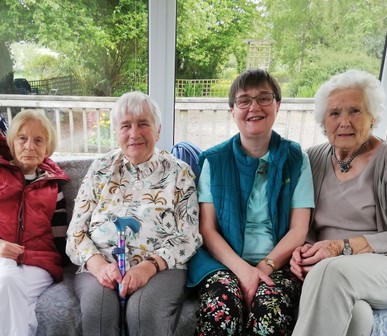 Due to Covid 19 restrictions the 2020 Festival Service was a Virtual one which was recorded in thge grounds of trhe Bishop's House and went live on Mary Sumner Day, 9th August. The following trustees were commissioned by the Bishop at the service.
Lilia Harper ~ VP for Fundraising & Communication

Naomi Besanson ~ VP for Action & Outreach

Tania Hanan ~ Social Policy Representative

Phyllis Grothier ~ Training Officer
We wish them well in thgeir new roles in Mothers' Union in the Diocese.
Our thanks to Lesley Bayley, Diocesan President, for organising the service, Bishop Michael for facilitating the service and preaching and Margaret Hawkins, DCO, for all her work in producing and putting the service together for uploading onto the world wide web.
Ploughing Championships 2022
Baby Changing and Feeding Facility
Ploughing Championships 2022 took place in Ratheniska, Co Laois, from 20th to 22nd September. Mothers' Union, yet again, provided the greatly appreciated facility where parents and guardians could come and feed/change their baby/toddler. Parents are delighted to have a lovely clean, safe environment in which to change and feed their child and the volunteers were kept very busy over the three days, keeping everywhere clean and ready for the next family using the facility. We had babies ranging from two weeks old, to a mother bringing back her nine year old to show him the facility she used at the ploughing when he was a baby. Great to see so many coming back for a visit and to say hello.
We were delighted to welcome Máiréad McGuinness, MEP, to the facility on the final day and she was very impressed with the service provided by Mothers' Union and she also praised the work Mothers' Union does in highlighting the scourge of Domestic Violence. Linda Ward presented Máiréad with a copy of the MU Prayer Book "Dear Lord" and a copy of the cookbook "Mums Marvellous Meals".
We are very grateful to all those members who volunteer so that this wonderful service can be provided at the Ploughing. Well done to everyone involved.
Ploughing 2022
Ratheniska, Co. Laois
Above is a slideshow of pictures from the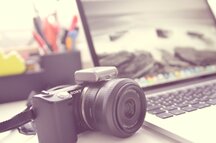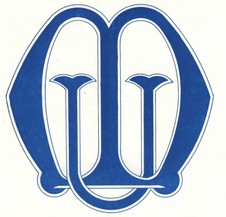 Subscriptions 2023
The Subscriptions for 2023 are due in the new year. Branch Treasurers should forward the money to the Diocesan Treasurer in January.
The breakdown of your subscription, the total of which is
€ 40,
is as follows:
£ 21.00 to Mary Sumner House

€ 1.00 Conference fee

£ 5.00 to run All Ireland including Insurance, office and travel

€ 10.00 to run Diocese.
NB. : Insurance for Branch Activities is covered under your subscription