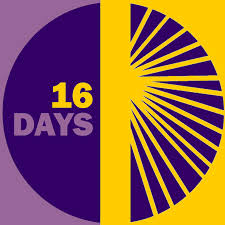 The Sixteen Days of Activism Against Gender Based Violence is observed by Mothers' Union members throughout Ireland.
From 25th November, the International Day for the Elimination of Violence against Women, to 10th December, Human Rights Day, the 16 Days of Activism against Gender-Based Violence Campaign is a time to galvanize action to end violence against women and girls around the world. The international campaign originated from the first Women's Global Leadership Institute coordinated by the Center for Women's Global Leadership in 1991.
Prayer for Month of November
(From the Mothers' Union Website)
God of justice, God of mercy, God of healing, we acknowledge the pain and brokenness of our world.
We pray for those who suffer degradation and violence through gender based violence.

We pray for those whose minds are warped by the need to control and imprison others in a world of cruelty and violence as a means towards self-gratification.

Gracious God, we praise you that you are continually at work in people's lives, challenging and convicting, transforming and restoring,

As Mothers' Union members, embed deep in us the courage to step out in faith, to stand alongside the victims, to dare the risk of challenging the status quo by speaking up for those who cannot speak for themselves.
In the name of Christ.
The Garda Síochána ~ Go Purple Day 28 April 2023
The purpose of this initiative is to highlight this Go Purple Day annual campaign - raising awareness of domestic abuse and the local domestic abuse support services that are available.
The 'Go Purple Day' was held in Garda Stations nationwide on Friday, 28th April 2023 to help raise awareness of domestic violence and the supports available to those affected in Ireland.
In previous years some of the ways that they have marked the day included:
Wearing purple pins on our uniform
Hosting a coffee morning with local DV services and emergency services
Information stands in shopping centres, colleges, marts etc.
Lighting up] our Garda Stations and other buildings in purple
Liaising with local sports clubs and community groups to hold talks and presentations.
Gorey Garda Station held a special awareness day in Christ Church Gorey on Saturday 29th April.