Diocesan Council Meetings
The Spring Council for 2019 was very kindly hosted by Ballycanew/Leskinfere/ Monamolin Branch in Ballycanew Hall on Tuesday 9th April. The Meeting began with a service of Holy Communion in St. Mogue's Church, during which our Diocesan Chaplain, Canon Mark Hayden, gave a very thought provoking address on the work of Mothers' Union with special reference to AFIA (Away from it All) and how beneficial it is to the wellbeing of individuals/families. Canon Mark was assisted at Holy Communiuon by our Diocesan President, Lesley Bayley.
The Council Meeting also took place in the church. We were welcomed by, Lesley Bayley, who spoke about being privileged to be elected as our Diocesan President. Lesley spoke of her journey to date in the role ~
a

ttending the commissioning of the Worldwide President, Sheran Harper, in London

the commissioning of our new All-Ireland President, June Butler, in Downpatrick

her own commissioning as an All-Ireland Trustee

attending both All-Ireland meetings and Branch meetings
A great deal of time during the meeting was focused on governance and adhering to the bye-laws of Mothers' Union.
Canon Barbara Fryday guided us through the form that treasurers have to return with their accounts and the requirement to fill the details in accurately.
Lesley went through all of the guidelines that had been sent out to Branches emphasising the need to follow the procedures in our bye-laws re appointing officers, keeping branch finances etc. While appreciating the difficulty and concern Branches had in following these guidelines it was pointed out that as a Charitiable Organisation we had to be transparent in all of our transactions and how we organised our Branches.
Reports were also received from the Unit Co-ordinators and it was agreed that the minutes of the meeting should be forwarded to all Branches as soon as available so that information is relayed to all members.
AFIA (Away From It All)
was
relaunched at the meeting and it is hoped that the Diocese will be able to support families/individuals in crisis with the support of this project.
Following the meeting we all enjoyed delicious refreshments provided by members of Ballycanew/Leskinfere/Monamolin Branch. Our than
ks to Naomi Besanson, Branch Leader, and to all of the members of the Branch for all of the work and effort they put into preparations for the meeting and the lovely meal. It was greatly appreciated by everyone.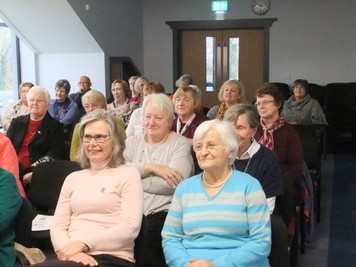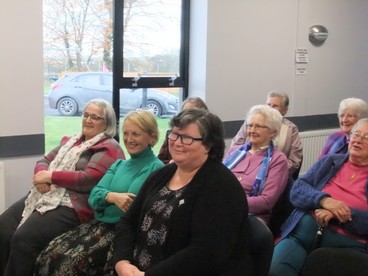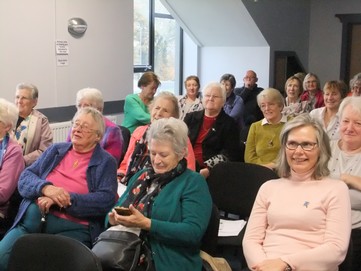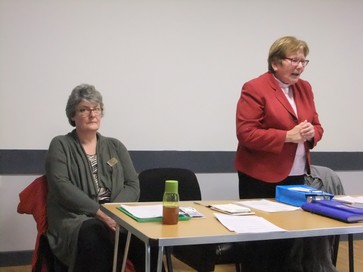 The Autumn Council Meeting for 2018 took place in The Faith Mission Centre in Durrow on Thursday 8th November.
Revd. Margaret Sykes with the assistance of Lesley Bayley began the morning by celebrating Holy Communion with all those who attended the meeting.
During the meeting Revd. Margaret, our Diocesan President, paid tribute to outgoing Office Holders in Mothers' Union and presented them with tokens of appreciation.
Elizabeth Johnston ~

Elizabeth has been Diocesan Treasurer for the last six years and has guided Branches through a difficult time as we have all had to cope with new accounting procedures due to Charity Regulation. Margaret thanked Elizabeth for all of her hard work and dedication as Diocesan Treasurer.

Joan Blake ~

Joan has been Training Officer for the last six years and many have benefitted from her advice and support which is always given in good humour and in a practical way. Joan is also currently the co-ordinator for the Finance and Central Services Unit.

Canon Barbara Fryday ~

Canon Barbara has been co-ordinator for Faith & Policy for the last two years and now takes over the role of Diocesan Treasurer.

Lesley Bayley ~

Lesley has been VP for Ferns Area for the past two years and will now take over as our Diocesan President. We wish her well as she guides Mothers' Union in the Diocese into the future.
Revd. Margaret thanked Pearl Olsen who has been elected as Unit co-ordinator for the Action & Outreach Unit
Joan Blake then paid tribute to Revd. Margaret Sykes, out-going Diocesan President, and presented her with a gift from the Diocese in gratitude for all she has done for Mothers' Union in the Diocese during the four years she has been Diocesan President. Margaret replied that it had been a privilege to serve in the role for the last four years and thanked everyone for their friendship and support.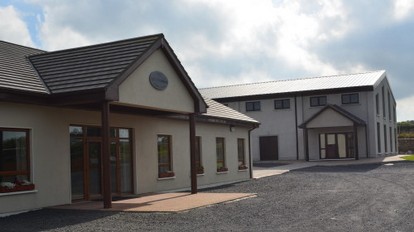 The Faith Mission Centre, Durrow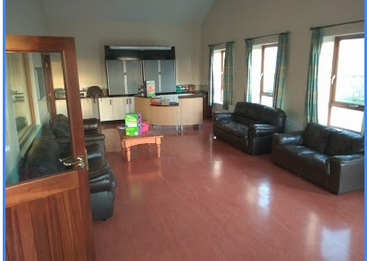 The Spring Council was held in Kiltegan and was very kindly hosted by Kiltegan/Hackestown Branch of Mothers' Union. Holy Communion was celebrated in the St. Peter's Church by the newly appointed Rector, Revd. Robert Jones, assisted by our Diocesan Chaplain, Revd. Canon Mark Hayden. Canon Mark also preached and gave us all plenty to reflect on in his thought provoking address.
The Spring Council Meeting meeting also took place in the Church. We had very interesting and informative reports from all of the Units and also heard about many of the planned events for Mothers' Union ~ the trip to Wales organised by Bea Thorpe, the Docesan Tour to Sligo, Mums in May, the General Meeting in Wales etc. There was a great deal of focus on MULOA (
M
others
U
nion
L
istening
O
bserving
A
cting) and we look forward to seeing how this initiative will help to energise and promote Mothers' Union not only here in Ireland but throughout the world.
Following the meeting everyone enjoyed a wonderful meal in the adjoining hall. We were all spoiled for choice with the delicious array of salads and mouth-watering desserts. A very big THANK YOU to the ladies from Kiltegan/Hacketstown Branch who did sterling work in organising a very successful and enjoyable Spring Council Meeting. Well done everyone.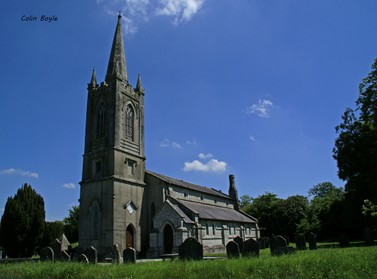 ST PETER'S CHURCH ~ KILTEGA
N